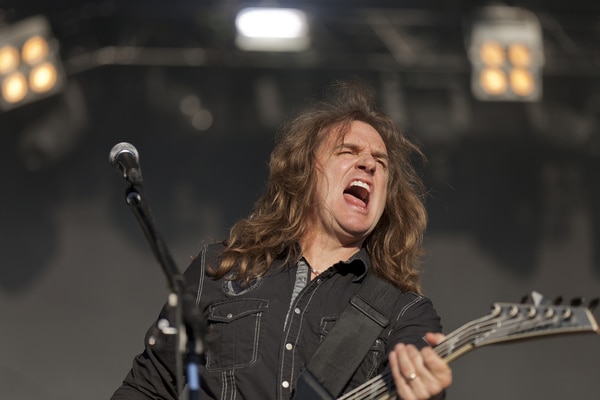 Heavy metal group, Megadeth has parted ways with its co-founder, David Ellefson following allegations of sexual misconduct against the bassist. Ellefson has been accused of trying to groom an underage girl online, claims which the rocker has staunchly denied.
Megadeth released a statement on Monday, detailing Ellefson's departure and claiming he was no longer with the heavy metal band. The news had been announced in a statement on the band's social media page, signed off by frontman, Dave Mustaine.
"We are informing our fans that David Ellefson is no longer playing with Megadeth and that we are officially parting ways with him. We do not take this decision lightly. While we do not know every detail of what occurred, with an already strained relationship, what has already been revealed now is enough to make working together impossible moving forward."
This decision comes only a matter of days following the band's declaration that "it is important that all voices be heard clearly and respectfully. We look forward to the truth coming to light." Although following further investigations, it would now appear that the band think it was best to part company with the accused bassist.
Earlier in the month, conversations between Ellefson and an allegedly underaged woman were leaked, involving explicit images and videos. The Megadeth bassist has staunchly denied the allegations made against him in that he was attempting to groom a minor. Ellefson has used his Instagram account in the past to deny the allegations, but it has since been made private.
"While certainly embarrassing, I want to address it as openly and honestly as possible," the Megadeth co-founder said on Instagram. "As much as it's not something I'm proud of, these were private, adult interactions that were taken out of context and manipulated to inflict maximum damage to my reputation, my career and family."
A statement, made by the allegedly underaged woman, was included in the bassist's Instagram post, where she denied the claims. Although she admits the video calls happened, she has denied claims that she was a minor and that Ellefson was attempting to groom her. The statements from the Megadeth bassist and the woman have since been deleted and the bassist's Instagram is now private.
"Yes, those video calls did happen, but I was the one to initiate them and never was I underage, I was always a consenting adult. Nothing inappropriate ever happened [with the Megadeth bassist] before that. It was all consensual, I'm not a victim and I have not been groomed in the slightest as I was the one to initiate it."
When the allegations were brought forward, the band were slow to come to Ellefson's defence or condemn him. In a statement on their Instagram they said, "We are aware of the recent developments regarding David Ellefson and are watching developments closely. As it relates to creativity and business, we are all familiar with one another. However, there are clearly aspects of David's private life that he has kept to himself. As the situation unfolds, it is important that all voices be heard clearly and respectfully. We look forward to the truth coming to light."
Megadeth was formed in LA in 1983 by Dave Mustaine and Ellefson, with Mustaine a member until 2002. Mustaine had to quit for medical reasons and ended the band, before reforming the group in 2004, albeit without Ellefson, who was omitted from the line-up.
Mustaine was then sued by the bassist for $18.5 million (just over €15 million) for merchandise and publishing royalties. Following the case being dismissed in 2005, Ellefson was then introduced back into the lineup five years later in 2010. So far, Megadeth has not revealed any replacements for their long serving, accused bassist as of yet.
Megadeth are known for their technically complex guitar work and musicianship and is one of the "big four" of American thrash metal. They have released sixteen albums over close to forty years and have been immortalised in tons of memorabilia, including a colouring book.