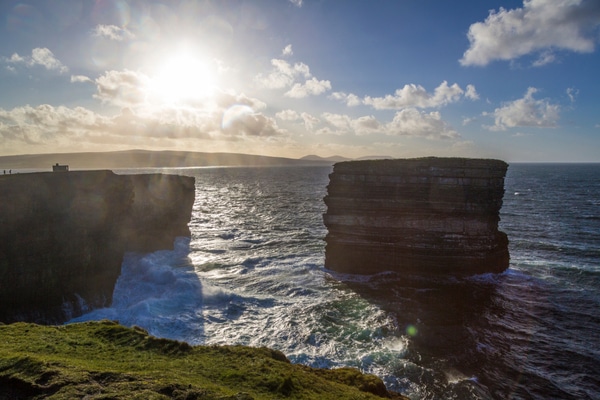 Met Éireann have said that the warm weather experienced over the weekend is to be exceeded in the coming days.
Meteorologist Aoife Kealy said that the current warm conditions will remain until at least Thursday. But, she did say that the weather will become cooler for next weekend.
Ms Kealy also added that temperatures will remanin in the mid to the high twenties during the day. She also said that night time temperatures will not drop lower than the mid to high teens.
Aoife Kealy also emphasised that this warm weather brings "real risks". People must consider factors such as high UV levels, heat exhaustion and stress. She urged people to take care in the intense heat.
"Another warm week ahead as the #heatwave continues with strong sunshine and temperatures widely into the high 20s and possibly 30 Celsius in a few locations", Met Éireann tweeted early this afternoon. 
"Although on the whole it'll be a dry week a few isolated thundery showers could break out today & tomorrow". 
Hotter and dryer conditions in Ireland for the coming years
Aoife Kealy also said that climate projections are predicting hotter and dryer weather conditions for Ireland in the coming years.
She did also say that more detailed analysis is needed to determine the impact of climate change on events like the current heatwave.
Temperatures reportedly reached 29.5 degrees in Athenry, Galway and 29.3 degrees in Roscommon.
"Yellow warning"
Speaking to Claire Byrne, Met Éireann's head of forecasting, Evelyn Cusack said that it is likely that a Status Yellow warning will be issued later this week.
"We do think we will be issuing a Yellow warning for Wednesday, Thursday because nighttime temperatures are expected to be very high", she said. "We are likely to upgrade (the current weather advisory) to a warning, perhaps touching (Status) Orange level in parts of the midlands".
Cusack also added that coastal areas will experience cooler weather than inland areas due to sea breezes. Temperatures are still to hit the high twenties across the whole country.
Met Éireann also tweeted this over the weekend.
⚠️High Temperature Advisory for Ireland 🌡️📈⚠️

All active warnings see here ➡️https://t.co/l8JdKfwZt9 pic.twitter.com/kuVPw1p3pf

— Met Éireann (@MetEireann) July 17, 2021
Health guidelines
Along with Met Éireann's warnings, Clare GP, Dr Máire Finn urged parents to ensure that their children take regular breaks during these hot days. She added that children are not able to manage the heat like adults can.
Dr Finn also added that heat stress can make children feel lethargic and irritable. If not managed properly, this could lead to heat exhaustion.
She also added that parents should give children cordial in their drinks and iced lollies to help them to cool down. The GP also said that parents can add dioralyte to drinks and home made iced lollies for children.