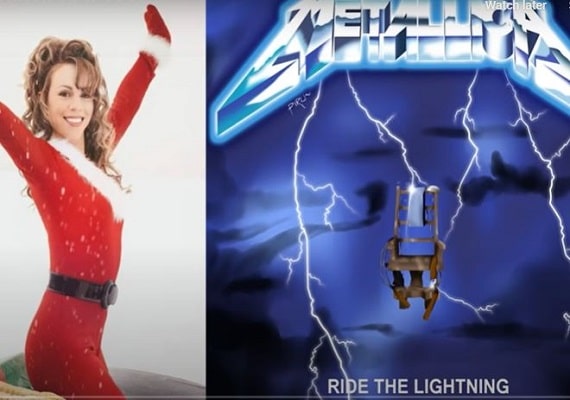 Yes, that time is upon us. Cold weather and dark evenings are the current theme but, the Christmas feeling is getting closer. So close, festive cheer has driven one music fan to create a yuletide mash-up of Metallica and Mariah Carey. Check out the video below.
A YouTuber has released a new mash-up video of the two unlikely genres. The channel, going by the name William Maranci, creates all kinds of mash up videos. A personal favourite: "Beastie Boys – Intergalactic But It's Ghostbusters by Ray Parker Jr."
The latest mash up must get some credit. Even for coming up with the idea in the first place. The festive mix blends an instrumental of Carey's Christmas song, All I Want For Christmas Is You, with James Hetfield's guitar riffs and gravelly vocals from For Whom The Bell Tolls.
This mix will not be everyone's "stocking filler" but it does come at a time when people need to laugh the most. The coronavirus threatens to "steal Christmas", with Level 5 restrictions in place until December 1st to try lower active cases.
Meanwhile, the actual Metallica have been discussing what fans can expect from their next album.
"I'm not gonna speak on behalf of the other guys, but to me, it feels like this could be a very collaborative [writing process]," said bassist Rob Trujilo. "And for me personally, I love that. I love that we are in that head space to be more collaborative. And I think that's very exciting for where we're at now, the journey we're about to take. The fact that those doors are opening like that."
These comments come after drummer Lars Ulrich said about the challenges of writing new material together in lockdown.
"I'm not sure – it's not easy, but we've been doing what we can. We've been exchanging ideas back and forth," said Ulrich.
Lars thinks the hardest thing about being separate from the other members is the lack of software. There is not much software out there that they can all play in real time together.
"So I can play something and send it to the next guy and then he can play on it and he can send it to the next guy, or vice-versa, but we can't play at the same time so it takes the impulsivity and the momentary energy out of the occasion."
In other news, Miley Cyrus is set to record covers of Metallica songs on a new album.