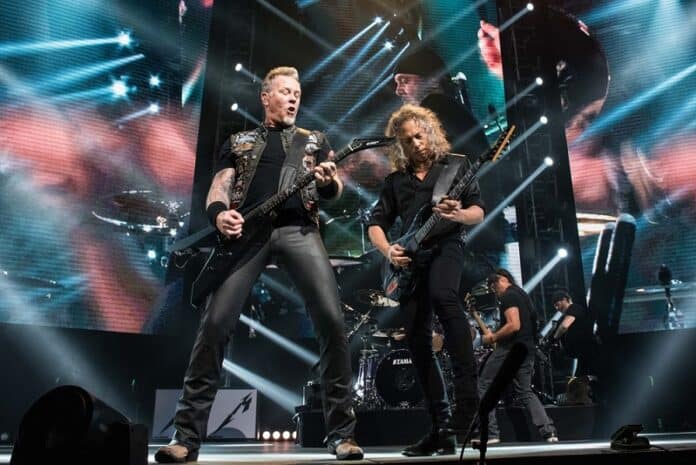 Metallica have raised over one million dollars for their charity organisation, the All Within My Hands foundation. The band recently played a live virtual concert from their HQ in California.
At the last count, the band said they raised 1.3 million dollars from donations from fans and sponsors such as Mercedes, Salesforce and many more. You can watch the acoustic version of 'Blackened' and the latest edition of 'Disposable Heroes' below.
The money raised from the concert will go to many good causes including Feeding America and the American Association of Community Colleges, along with supporting COVID and disaster relief efforts.
We're thrilled to announce that, thanks to all of you & our generous sponsors, #HelpingHands2020 has raised over $1.3 million! Those funds will be used to continue our support of @AWMHFoundation partner organizations & #COVID19 & disaster relief efforts. https://t.co/fPttNiepfJ

— Metallica (@Metallica) November 24, 2020
The first half of the set saw them play acoustic. The second half saw the band bring out the electric guitars and surprise all who were watching with a cover of 'The House of the Rising Sun' and 'Wasting My Hate', a deep cut from the Load album. The concert, along with other packages are still available to purchase from here.
Along with the concert, Metallica are providing special items for an auction for the charity. The latest offering are bracelets that include strings from James Hetfield, Kirk Hammett and Rob Trujillo.
.@WearYourMusic is auctioning off this custom bracelet featuring strings from James Hetfield, Kirk Hammett & Robert Trujillo; sterling silver Ninja Star logo accents; & lyrics from "Nothing Else Matters." Proceeds donated to #AWMH. Ends Nov 30 at 6PM EST. https://t.co/QO25D5vMbM pic.twitter.com/ZTU6X5l6yK

— All Within My Hands Foundation (@AWMHFoundation) November 25, 2020
The band have been doing their part for charity for many years now. During their World Magnetic tour in 2008 and 2009, the band made headlines in many states across America due to them donating concert proceeds to local charities.
In 2016, when they played The Royal Opera House in Toronto, the band donated all proceeds from the concert to a local food bank, the Daily Bread organisation. Metallica also encouraged attendees to bring non-perishable foods as a donation for the food bank.
It all sounds normal, however, the food bank had no idea about the concert and the efforts Metallica were making. They were inundated with calls from fans asking for tickets, even offering to pay a thousand Canadian dollars for a ticket according to Benita Aalto, a spokesperson for Daily Bread.
The band also made headlines in Ireland when they headlined Slane Castle. Metallica donated €35,000 to the Capuchin Day Centre for Homeless People and the same amount to the ISPCC Childline organisation.
Recently, Lars Ulrich said Metallica were a month into "serious writing" for their next record. Read Radio Nova's report on it here.