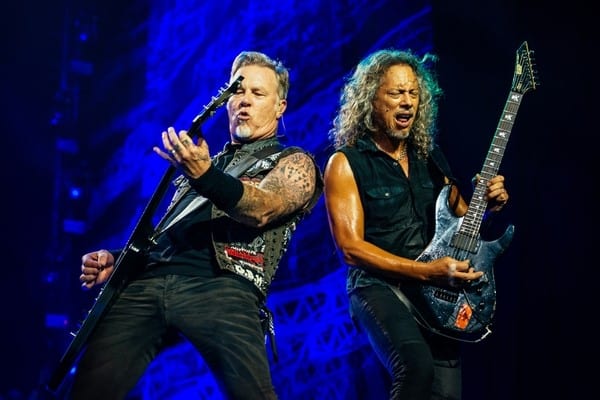 To mark its 30th anniversary, Metallica look set to release a deluxe reissue their 1991 "Black Album". 
It would make sense, given the fact that the band have already released album reissues for Ride the Lightening, Kill 'Em All, Justice For All, and Master of Puppets in recent years.
12 August 2021 will mark 30 years since the release of "Black Album".  This album went on to sell 30 million copies. It also spent 580 non consecutive weeks in the Billboard Top 200 Chart in America. A feat that was only matched by Pink Floyd's The Dark Side of the Moon.
Fans of the band got particularly excited after seeing a clip of a 1992 performance of the track Wherever I May Roam from San Diego on the band's Instagram account. The post also included the hashtag "BlackAlbum2021??". Check it out here. 
Metallica wrote 10 new songs during lockdown over Zoom
Earlier this month, Metallica's frontman James Hetfield revealed that the band had written over 10 new songs during lockdown, some of which were written over a series of Zoom calls.
"Because of COVID, just sitting at home and getting a little bit antsy and just feeling creative at the same time and wanting to get together, I started doing a weekly Zoom with those guys just to check in", Hetfield said.
He also added, "And then I just told them one time, 'Hey, I'm gonna write something. I'm just gonna play something and send it to you guys. You do whatever you want with it and see what happens and layer on to it". 
Hetfield also explained how he, Kirk Hammett and Lars Ulrich had worked on this new material over these Zoom calls.
"We started experimenting with writing on Zoom. (Drummer) Lars (Ulrich) and I would get together, or (guitarist) Kirk (Hammett) and Lars, and we would get little bits of time here and there writing", he revealed.
"It was difficult because of the delay in the sound, so we couldn't actually play together, but we would play to a click track and watch each other play", More on that story here.
Metallica also revived their "Metallica Monday" series yesterday (May 24). They did this for one night to only to help their All Within My Hands Foundation.
During an introduction to a show filmed at Pinnacle Bank Arena in Lincoln, Nebraska 0n 6 September 2018, they said "In honor of Month of Giving, we are bringing #MetallicaMondays back for a special one-off event benefiting the All Within My Hands foundation's annual Month of Giving".