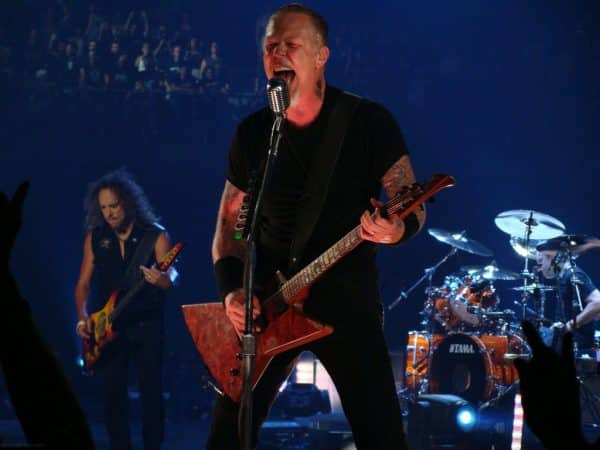 Heavy metal legends, Metallica have been going strong since the eighties. Over the years they have had their ups and downs. Throw back to the group therapy sessions the band endured in Some Kind of Monster with "performance enhancement coach" Phil Towle. It's now come to light that tension still seems to exists between certain members. *Cough James Hetfield. *Cough Lars Ulrich.
Rolling Stone did a profile on the heavy metalers recently. Looking at the band's current Worldwired tour, one moment in the write up unveils front man, James Hetfield becoming frustrated with Lars Ulrich over the drummer's lack of rhythm on the track 'Wherever I May Roam'. Hetfield asks: "Do you always do that?" which the singer later clarified, laughing, "What I said was a nice way of saying, 'What the hell are you doing?".
Hetfield notes: "The band can still pretty much fall apart at any moment, but we don't want that. We know too much now. It's come with time and growing up together, going through tons of shit together and possibly maturing".
"We know where all the nuclear buttons are with each other, but we don't push 'em. We love what we do, and we want to keep it going".
The band are known to travel in separate vehicles to-and-from venues and keep to themselves in the times between shows or meet and greets. It's an approach that works for them. They give each other space and sure here they are, still going strong, 35 years after Hetfield first responded to an advertisement posted by drummer Ulrick in a local newspaper.
Metallica has released ten studio albums, four live albums, five extended plays, 39 music videos and 37 singles. The band has won eight Grammy Awards and six of its albums have consecutively debuted at number one on the US Billboard 200 charts.
"I really feel like we've always been able to pull it together and persevere and move forward," lead guitarist Kirk Hammett said, "It feels good to be able to f#$*%ing do stadium tours after 30-plus years. That's the ultimate, and I'm so grateful and feel so motherf*#@ing lucky."
Photo Credit: Alberto Cabello