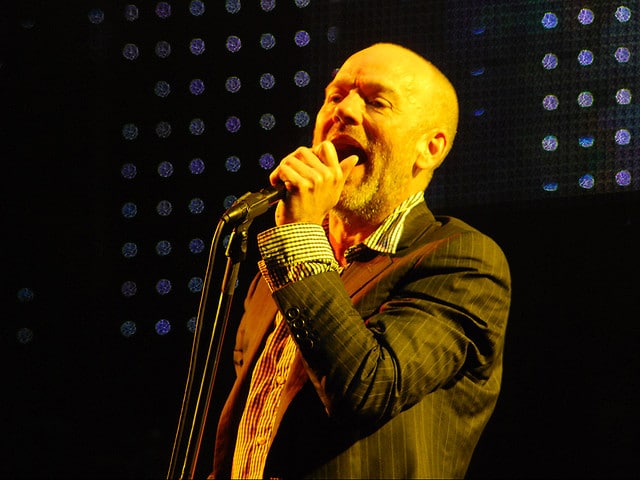 Former REM frontman Michael Stipe has nailed his colours to the mast, claiming that a band reunion will "never happen".
Stipe, guitarist Peter Buck and drummer Mike Mills, called it a day back in 2011 after writing and performing for over thirty years.
The frontman made the comments during an interview on American television show 'CBS This Morning'.
Stipe was promoting the band's new six-disc DVD box set titled 'REMTV', chronicling the band's relationship with MTV from 1983 and 2007.
The collection features live performances, MTV award show highlights, a new feature length documentary and highlights from the band's performance at 2008′s Oxegen festival.
Stipe was asked will the band ever get back together, he repiled: "No. That will never happen… There's no point. I love those guys very much and I respect them hugely as musicians and as songwriters and everything but I just don't want to do that thing that people do…I despise nostalgia. I'm not good at looking back."
The REMTV box set is available now. The collection includes both the group's MTV Unplugged appearances, VH1′s Storytellers programme about the band and their induction into the Rock n Roll Hall of fame in 2007. One of the highlights of the collection is the feature documentary of R.E.M. Downs said, "Alexander Young's documentary is a fine way to tell the story of REM through its various twists and turns, as captured in real time by MTV's cameras – it has some great funny bits too!"
'REMTV DVD' track list:
 Disc 1
Unplugged 1991
Outtakes 1991
Unplugged 2001
Outtakes 2001
Disc 2
VH1 Storytellers
Storytellers Outtakes
The Cutting Edge
Livewire
MTV 10th Anniversary Special
Video Music Awards 1993
Video Music Awards 1995
European Music Awards 1998
European Music Awards 2001
Rock And Roll Hall Of Fame Induction 2007
The Colbert Report 2008
Disc 3
R.E.M. In Dallas
R.E.M. Uplink At Bowery Ballroom
Live In Cologne
Live In Cologne Outtakes
Disc 4
R.E.M. At The Tabernacle, London
MTV Sonic Milan
Rock AM Ring
Rock AM Ring Outtakes
Disc 5
Live At Rolling Stone, Milan
Live At Oxegen Festival
R.E.M. Live In Athens, Greece
Disc 6
R.E.M. By MTV
Deleted Scenes