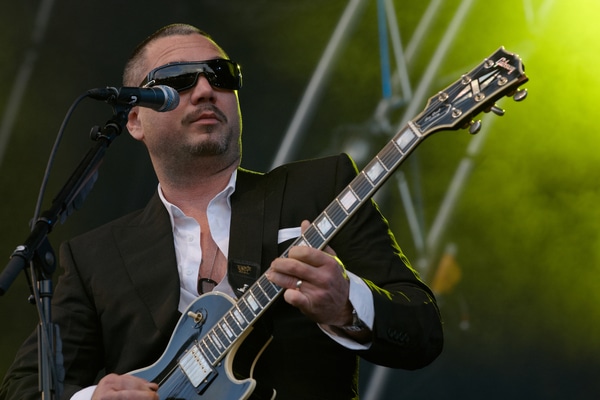 New York quartet, Fun Lovin' Criminals has parted ways with its frontman Huey Morgan, according to the official Twitter account. The band ended a 28-year association with the singer, guitarist, and cofounder, by announcing his departure earlier today (12th).
Starting out as a backup club band, Huey Morgan, Brian 'Fast' Leiser, and Steve Borgovini went on to become superstars. Forming in '93, the band shot to fame in 1996 with its debut album, Come Find Yourself, featuring their hit track – Scooby Snacks. The group released six studio albums with the most recent being 2010's, Classic Fantastic, and continue to perform live.
Taking to Twitter earlier today, the band wrote, "Huey has officially confirmed his departure from the band. We wish him all the best with his endeavours. We will continue as Fun Lovin' Criminals because of the love and dedication we have for our music and our fans. More details to follow".
Fun Lovin' Criminals now consists of Leiser, and Frank Benbini – who became the permanent replacement for Steve Borgovini. Former frontman, Morgan, is yet to release any official comment on the news, as of yet.
Huey Morgan is also well known for his career as a DJ and presenter on BBC 6 Music with The Huey Show, while he's also hosted programmes on Radio 2. Morgan has also made TV appearances on shows such as Question Time, Skins, and Never Mind The Buzzcocks – which he has also guest-hosted.
The singer made headlines for his 2013 appearance on the music quiz show where he smashed a cup and stormed off the set. Morgan became frustrated with guest hosts, Rizzle Kicks, after being asked to complete lines from 'Fun Lovin' Criminals' songs during the 'next lines' segment of the show.
"I just thought you guys might do something different for a change".
Born to Puerto Rican-American and Irish-American parents in '68, the New York native has gone on to monumental success. In 2012, Morgan released his debut solo album, Say It To My Face, under the moniker Huey And The New Yorkers.
https://twitter.com/funlovincrims/status/1459081576927703043?ref_src=twsrc%5Etfw%7Ctwcamp%5Etweetembed%7Ctwterm%5E1459081576927703043%7Ctwgr%5E%7Ctwcon%5Es1_&ref_url=https%3A%2F%2Fwww.nme.com%2Fnews%2Fmusic%2Ffun-lovin-criminals-announce-departure-of-huey-morgan-3093989