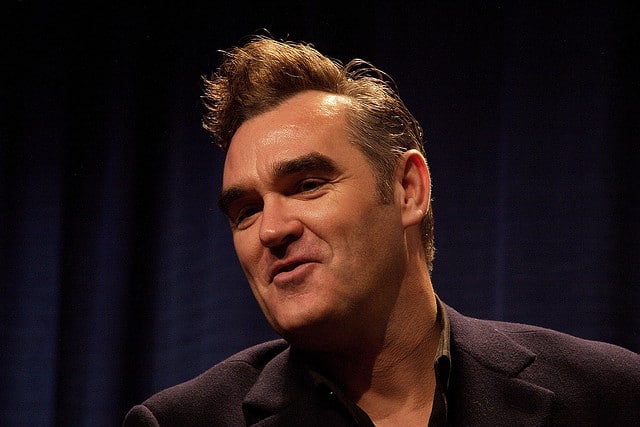 Morrissey has addressed his legions of fans, thanking them for their support of his recent tour and listing his favourite crowds.
The singer has released the top 17 venues he played on his 'World Peace Is None Of Your Business' tour.
The European leg of Moz's tour has been packed full of drama. At a concert in Lisbon, Morrissey's entire band wore t-shirts with the slogan "F**K HARVEST". The passive-aggressive stunt was aimed at his former record label Harvest Records, with whom he has fought with for most of the year.
He walked off the stage in Warsaw, Poland because a fan was screaming abuse at him. It's not entirely clear what was said, there has been speculation that the fan may have made comments about Morrissey's recent battle with cancer.
Moz was forced to run off the stage in Germany, when fans began storming the stage trying to hug and kiss him.
And he found the time to have a quick rant about the Royal Family at a show in London.
The singer ranked his concert in Dublin's 3Arena at the second 'best of the best' shows, narrowly losing out to London's O2 gig.
Morrissey wrote on website TrueToYou, thanking all his fans for the 'best tour ever', the message reads: "What I may risk calling our best tour ever … has now ended, and my written words of thanks to all who came along to watch and listen are strong enough to burn a hole through the North Pole. It is gratifying to have so much support around the world, and the drone of my repetitive thanks could somehow never say enough."
Morrissey's 'the best of the best' venues list:
1. London (England) 02 Arena
2. Dublin (Ireland) 3Arena
3. Belgrade (Serbia) Belexpocentar
4. Paris (France) Le Grand Rex
5. Helsinki (Finland) Finlandia, first night
6. Istanbul (Turkey) VW Arena
7. Krakow (Poland) Laznia Nowa
8. Vienna (Austria) Konzerthaus
9. Athens (Greece) Tae Kwon Do Arena
10. Lund (Sweden) Sparbanken Skåne Arena
11. Zagreb (Croatia) Zagreb Fair, Pavilion 9
12. Hannover (Germany) Capitol
13. Essen (Germany) Colosseum
14. Utrecht (Holland) TivoliVredenburg
15. Copenhagen (Denmark) Falconer
16. Bologna (Italy) Paladozza
17. Pescara (Italy) Pala Gpii