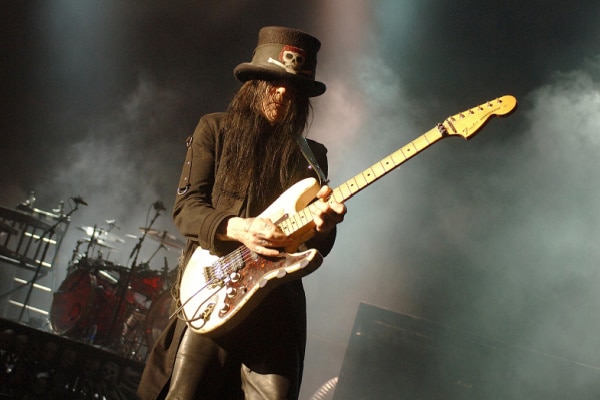 Motley Crue have confirmed that their touring guitarist Mick Mars has retired.
In a statement, the band confirmed that Mars would be stepping away from touring, due to his battle with his degenerative disease.
However, Motley Crue had added that Mars will remain with the band for legal and in-studio purposes.
They have yet to confirm who will replace Mars, whose final show was held last month at the Allegiant Stadium in Las Vegas, as part of the band's tour. They also performed alongside Joan Jett and Poison and Def Leppard.
See footage below.
"no longer be able"
Motley Crue confirmed this news regarding Mars' retirement from touring, in a statement shared via Variety.
"Due to his ongoing painful struggle with Ankylosing Spondylitis (A.S.), he will no longer be able to tour with the band", they said.
"Mick will continue as a member of the band, but can no longer handle the rigors of the road. A.S. is an extremely painful and crippling degenerative disease, which affects the spine".
Mick Mars has been part of the Motley Crue touring band since their formation in 1981.
He was diagnosed with A.S when he was 17 years old. Mars has always spoken candidly about his illness, speaking about it in the band's 2004 memoir The Dirt.
He was underwent successful hip surgery in 2004.
Last week, Motley Crue confirmed plans for a major live tour with Def Leppard for next year, which will see them take this tour to Europe and South America, following a successful stint in North America.
They kick off the tour in February 2023, before hitting Europe in May.
At the time, the band released this statement, "We had an incredible time playing The Stadium Tour in North America this summer and we truly can't wait to take the show around the globe with The WORLD Tour in 2023. Crüeheads in Latin America and Europe: Get ready! We're coming for you next and can't wait to finally see all of you out there again next year!". More on this from Nova here.
First, U.S. Stadiums…now – THE WORLD 🤘The World Tour with @DefLeppard is hitting Latin America & Europe in 2023! 🔥
Head to https://t.co/j2I0niNlrs for all details and specific pre-sale, on-sale, and VIP package information. pic.twitter.com/kIJ30ne6tX

— Mötley Crüe (@MotleyCrue) October 20, 2022