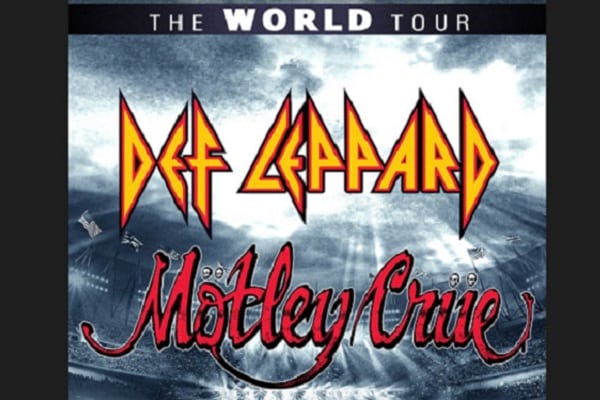 Following a succesful showing in North America, Motley Crue and Def Leppard are taking their co-headlining tour to Europe and South America.
Kicking off this tour in February 2023 with a set of shows across South America, Motley Crue and Def Leppard will head for Europe in May.
The European leg of the tour will see two legends of rock music take to the stage at London's Wembley Stadium and Dublin's Marlay Park in July.
July will also see the bands finish off this mammoth tour in Glasgow.
Tickets for the shows will go on sale from Friday 28 October at 10am via Ticketmaster. They will cost €89.50 (including booking fee) each.
"incredible time"
Confirming this news, both bands released statements.
"We had an incredible time playing The Stadium Tour in North America this summer and we truly can't wait to take the show around the globe with The WORLD Tour in 2023. Crüeheads in Latin America and Europe: Get ready! We're coming for you next and can't wait to finally see all of you out there again next year!", Motley Crue said.
Def Leppard's Joe Eliot also added, "After finally getting back on the road and having a monumental summer tour in the US & Canada this year, we're beyond thrilled to be bringing this massive stadium tour to major cities all over the world, and kicking off Europe in Sheffield where it all started for us 45 years ago. We're looking to forward to seeing you out there, somewhere soon!". 
See the tour dates in full below:
THE WORLD TOUR DATES: 
Sat, Feb 18, 2023           Mexico City, Mexico     Foro Sol
Tue, Feb 21, 2023          Monterrey, Mexico       Estadio Banorte
Sat, Feb 25, 2023           Bogota, Colombia          Parque Simon Bolivar
Tue, Feb 28, 2023          Lima, Peru                     Estadio Nacional
Fri, Mar 3, 2023              Santiago, Chile                 Estadio Bicentenario de La Florida
Tue, Mar 7, 2023           Sao Paulo, Brazil            Allianz Parque
Thu, Mar 9, 2023           Curitiba, Brazil            Estádio Couto Pereira
Sat, Mar 11, 2023          Porto Alegre, Brazil       Arena do Grêmio
European Leg Of Tour
Mon, May 22, 2023      Sheffield, UK         Bramall Lane
Wed, May 25, 2022      Mönchengladbach, Germany  SparkassenPark
Sat, May 27, 2023         Munich, Germany         Koenigsplatz
Mon, May 29, 2023      Budapest, Hungary       MVM Dome
Wed, May 31, 2023      Krakow, Poland              TAURON Arena Kraków
Fri, Jun 2, 2023              Prague, Czech Republic   Prague Rocks *
Sat, Jun 3, 2023             Hannover, Germany     Expo Plaza
Tue, Jun 7, 2022            Solvesborg, Sweden     Sweden Rock Festival *
Fri, Jun 9, 2023              Hyvinkää, Finland            RockFest *
Sun, Jun 11, 2023          Trondheim, Norway     Trondheim Rocks *
Wed, Jun 14, 2023        Copenhagen, Denmark          COPENHELL *
Sun, Jun 18, 2023          Dessel, Belgium                Graspop Metal Meeting *
Tue, Jun 20, 2023          Milan, Italy                    Ippodromo SNAI San Siro
Fri, Jun 23, 2023            Lisbon, Portugal             Passeio Maritimo de Alges
Sat, Jun 24, 2023           Rivas-Vaciamadrid, Spain          Auditorio Miguel Ríos
Tue, Jun 27, 2023          Thun, Switzerland         Stockhorn Arena
Sat, Jul 1, 2023              London, UK                   Wembley Stadium
Sun, Jul 2, 2023             Lytham, UK                   Lytham Festival *
Tue, Jul 4, 2023              Dublin, Ireland                Marlay Park
Thu, Jul 6, 2023              Glasgow, UK                 Hampden Park
Last month, Def Leppard and Motley Crue also featured at the tribute concert in honour of the late Taylor Hawkins, where they were joined on stage by Miley Cyrus. More on this from Nova here.