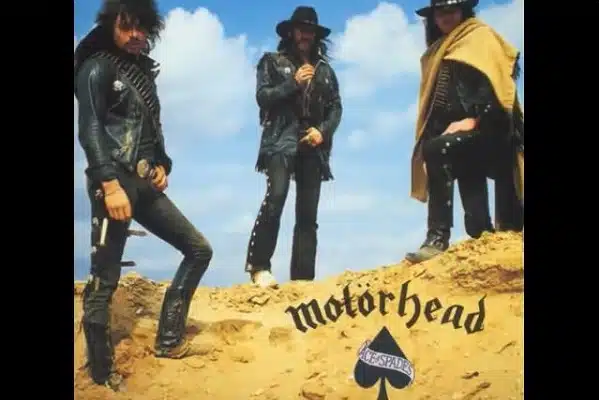 One of the most beloved musicians in rock history, Lemmy Kilmister created Motörhead following his dismissal from his former band, Hawkwind. However, their loss is our gain as the rocker gained monumental fame with some classic masterpieces over the years. One such masterpiece is the 1981 Ace of Spades, which celebrated its 40th birthday on November 8th.
Following an arrest in Canada for possession of cocaine, Lemmy had been kicked out of his former band, Hawkwind. Although the charges were later dropped, since he actually had methamphetamine, the rocker went on to form Motörhead with guitarist Larry Wallis and drummer Lucas Fox. The band gained a strong, underground following in England with a sound that mixed the swing of early rock 'n' roll, the groove of blues and the speed of punk.
However, it was not until their fourth full-length studio album, Ace of Spades, until Motörhead caught on in North America. Featuring the timeless, title track which remains the band's signature song, the album peaked on the UK charts in fourth spot. Pleased that Ace of Spades brought his status to astronomical levels, Lemmy was always upfront about his confusion with the public's reaction.
"I keep telling people this, but they think I'm f****** lying, but I'm not: I didn't think it was any better than any of my other songs and I still don't," the Motörhead frontman told reporters. "Sure, I like Ace of Spades, but no more than most of our other albums. The only one I really didn't like was 'Iron Fist' and that's mostly because the production was no good."
This Motörhead album is filled with raging, rampant tracks which helped define the group, at least in the UK and North America. Fast and Loose, (We Are) the Road Crew, The Chase is Better Than the Catch, and Love Me Like a Reptile stand alongside Ace of Spades as some of the band's finest material.
Ace of Spades is crystal clear carnage when compared to Iron Fist, which was produced by Vic Maile – Fleetwood Mac, Eric Clapton and Led Zeppelin. His unorthodox ideas for that album did not agree with Lemmy, who never really embraced the term "metal".
"If it was anyone else, we'd have told him to go and f*** **f and die, or tied 'em to the car and run around the car park with them," guitarist Eddie Clarke told reporters. "[But Vic] was very delicate because he was a diabetic. We couldn't f****** shake him, you know what I mean? He might die! So, we had to listen to him."
While many of the songs on Overkill and Bomber were churned out riff by riff over a short period, Motörhead put more time and effort into Ace of Spades. Rockfield Studio in Wales laid home to the writings and demos of this album, with recording taking place at Jackson's Studios in Rickmansworth, England. Over a five-week period, Maile helped fine-tune the tracks, while suggesting textural touches to make them more impacting.
"He certainly had his own ideas," Clarke said in Martin Popoff's Beer Drinkers and Hell Raisers: The Rise of Motörhead. "He put his little bits in, little bits and bobs, and he would subtly just try to steer you a bit. Like, if my guitar was a little too dirty, he wouldn't pull his punches. But he did it in a way where you didn't want to argue with him."
Upon its release in 1980, the Ace Of Spades album was nothing short of a gamechanger for all forms of hard rock. Motörhead perfectly captured everything great about hard rock, heavy metal, and punk. Nothing was harder. Nothing was faster. And certainly nothing was louder.
Meanwhile, Motörhead are joining forces with the team behind annual November fundraising campaign for men's health, Movember.