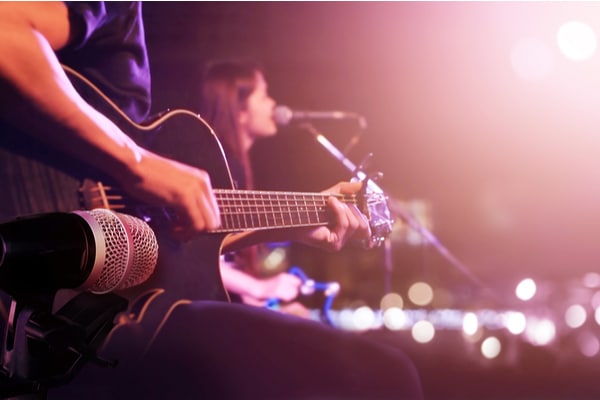 The Music and Entertainment of Ireland has urged the government to set a date for reopening the sector.
Minister Catherine Martin is to meet members of the music sector later today. They are to discuss a roadmap for the return of live music and cultural events.
As we reported recently, the government's ban on live music has even led to couples postponing weddings until 2023.
"need to be responsible" 
Spokesperson for the MEAI, Matt McGranaghan has also warned that 50% of workers in the sector could become unemployed in the coming months.  He also said that the industry has been under constant lockdown since March 2020.
McGranaghan also urged the government to make it possible for the industry to reopen from a fixed date.
"I think we we need to be responsible about the re-opening of the industry for the workforce and the general public", he said.
Elaborating on his warnings about the "50% unemployement", McGranaghan said that 30% of workers on the PUP will become unemployed by 14 September.
This is because they are transitioned to job seekers allowance. They will not be allowed to be self-employed while on that payement.
It is also estimated that a further 20% of workers from the sector will also transition to the job seekers allowance. This will leave 50% of the music industry "de facto unemployed".
"The next six months could be more damaging than the previous 18 if a re-opening strategy does not take everything into account", McGranaghan continued.
Maintain the supports for the Music Industry
The spokesperson also called on the government to keep the supports in place for the sector. He said that it can be "sector specific" by keeping this sector closed and opening other industries.
He also insisted that the music and entertainment sector can be run safely.
"We need to stop making it the root cause of the entire spread of Covid-19", he urged.
This message on the supports was also echoed by Michael Sheedy. Sheedy has been singing in nightclubs since his teens. He urged the Taoiseach to imagine trying to support a family on €350 a week.
"He should sit down and imagine if someone told him he couldn't work tomorrow morning and he had to take a pay cut and was going to be given €350 a week, then to be reduced to  €300 and then €250, would he sit in the corner without trying to do anything? I don't think he would". 
More on this here.