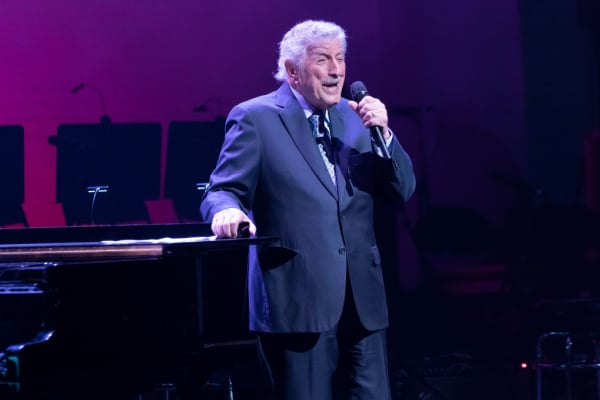 Would you like to listen to the article instead of reading it?
Music legend Tony Bennett, has passed away aged 96, according to several US media reports.
The singer was diagnosed with Alzheimer's Disease in 2016, before going public with his illness two years ago.
Bennett enjoyed a stellar career in showbusiness, winning 20 Grammy Awards, including a Lifetime Achievement Award.
He was also awarded the Martin Luther King Center's 'Salute To Greatness' award for his work in fighting racial discrimination, having joined the Selma-to-Montgomery civil rights march in 1965.
The singer's first big break came in 1949, after being noticed by comedian Bob Hope, working with actress and singer Pearl Bailey in Greenwich Village. He was performing under the stage name of Joe Bari at the time.
Tony Bennett enjoyed a string of hits throughout the 1950s, including 'Rags To Riches' and 'Because Of You' among others. He also covered Hank Williams' classic 'Cold, Cold Heart'.
He went on to release 70 albums, selling millions of records, and is perhaps the only artist to have new albums charting in the US, in the 1950s, 60s, 70s, 80s, 90s, 2000s, 2010s, and 2020s.
His 1962 track 'I Left My Heart In San Francisco' earned Bennett his first Grammy win.
The 2010s saw him become the oldest living artist to reach top spot in the Weekly Album Chart, according to Billboard.
"Best singer in the business"
Tony Bennett was also known for having a string of collaborators, from Frank Sinatra to Lady Gaga.
In fact, Sinatra once hailed Bennett as "the best singer in the business" during an interview in 1965. High praise indeed.
The late singer always referred to Bennett as "kid".
Despite his Alzheimer's diagnosis, Bennett could not be accused of lacking positivity, reworking one of his old quotes via social media "Life is a gift – even with Alzheimer's".
Last year, Bennett performed one his final shows, sharing the stage with Lady Gaga, who shared his final Grammy Award win.
Tony Bennett was married three times, and is survived by sons Danny and Dae from his first marriage to Patricia Beech, along with daughters Joanna and Antonia from his second marriage to Sandra Grant.
He married his long term partner Susan Crow, now Susan Benedetto in 2007.