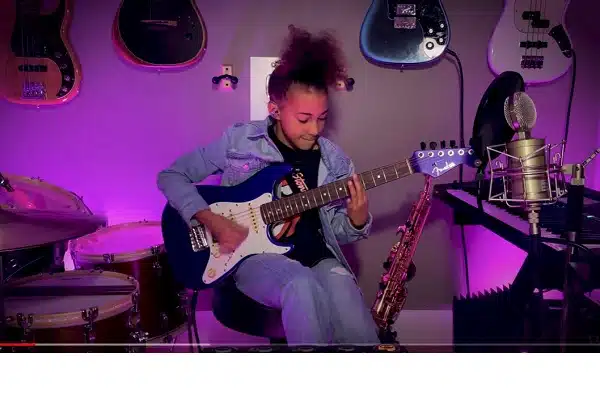 Internet star Nandi Bushell has paid tribute to the late Rolling Stones drummer Charlie Watts. Bushell did so by releasing a cover of the Rolling Stones' track "Gimme Shelter".
Charlie Watts passed away in August aged 80, which led to a huge wave of tributes. Mick Jagger called Watts the "heartbeat" of the band.
11 year old Bushell has shared this track via YouTube, having previously released covers of Nirvana, Linkin Park, Muse and Slipknot. She has also worked with the likes of Foo Fighers and Artic Monkeys drummer Matt Helders.
This clip which lasts for six minutes shows Bushell deliviering a multi-instrumentalist cover of the Rolling Stones track, where she plays electric guitars, and drums. She also played keys, alternative percussion and saxophone. She even sing's the 1969 vocal refrain.
"for Charlie Watts"
"This cover is for Charlie Watts", Bushell wrote.
She also added, "I wanted to do something really special for Charlie. This is my most ambitious cover yet. Gimme Shelter is such an incredible tune. I hope one day I get to jam with The Rolling Stones too. Mick Jagger, Keith Richards and Ronnie Wood – I LOVE THE ROLLING STONES!".
Check it out here.
Last month, Nandi Bushell also worked with Beatles music icon Ringo Starr to release a cover of Beatles track "Come Together". Other drummers also included Matt Cameron, Red Hot Chili Peppers' Chad Smith, along with Cindy Blakeman Santana and Steve Gadd among others.
On the track which will see proceeds going towards WhyHunger, Ringo Starr had this to say.
"We all can agree that no kid should be hungry, and everyone should have access to nutritious food",he said.
Starr continued, "This is a great cause that I've supported in the past and a great track – one of my favorite Beatles songs. So when Jim Keltner asked me to join all these other drummers I was happy to. Peace and love".
Back in Feburary, Bushell also shared a cover of The Who's "My Generation". This time, she paid tribute to the band's former drummer Keith Moon.
More on that report from Nova here.