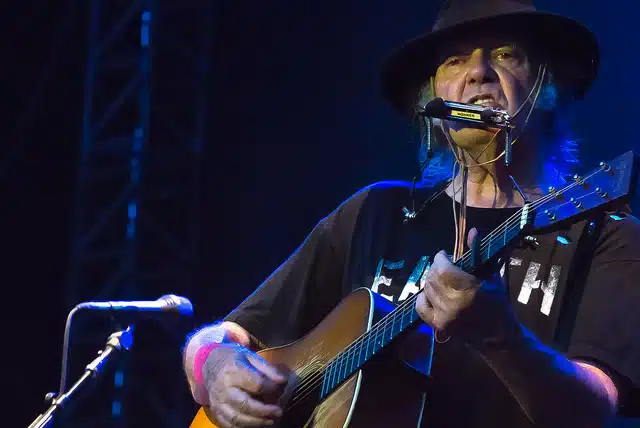 Neil Young is releasing a new album on Friday Oct 31st, the album Storytone has ten new tracks and was recorded live in studio with a 92-piece orchestra and choir.
Following his recent official confirmation of his 2nd album this year, Neil Young released details of the actual album, Storytone.
The singer's new album is his 35th LP and his last record was A Letter Home released on April 18th, 2014.
Young says that it is, "the most different thing that I've ever attempted," revealing that it'll be released in two versions — one solo acoustic, the other featuring "orchestral and big-band arrangements, all recorded live with no overdubs, and Young singing in the same room as the musicians."
Producers say, "Apparently a lot of these recent personal experiences went into these songs. It's a big ball of vulnerability, and that's what I love about it".
Last month, Young shared track two, the pro-environment anthem "Who's Gonna Stand Up?" to show support for protesters at the People's Climate March.
The pre-order for Storytone is available now at all participating digital retailers including iTunes.
(Written by Naoise Mulryan).
Watch the video for 'Who's Gonna Stand Up' below.
The track-listing for Storytone is as follows:
1. Plastic Flowers
2. Who's Gonna Stand Up?
3. I Want To Drive My Car
4. Glimmer
5. Say Hello To Chicago
6. Tumbleweed
7. Like You Used To Do
8. I'm Glad I Found You
9. When I Watch You Sleeping
10. All Those Dreams