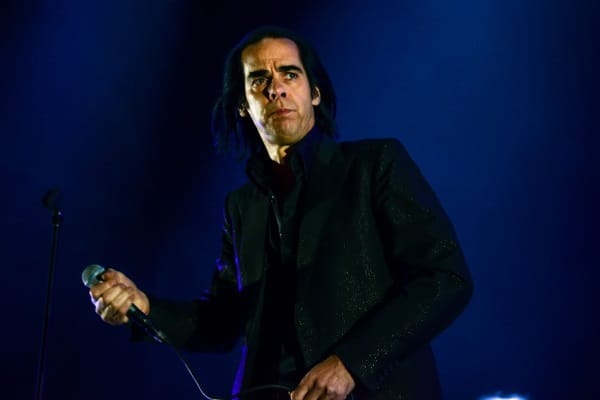 Would you like to listen to the article instead of reading it?
Nick Cave has announced a set of 'In Conversation' dates for his memoir 'Hope, Faith, And Carnage'. 
The memoir itself will be available in paperback from June 1, and you can pre order a copy here.
Promoting this memoir, this tour will see Cave embark across Europe for a series of Q&A sessions and book signings.
Starting on May 28 at the Hay Festival in the UK, Nick Cave will also take these 'In Conversation' events through to June, with two dates in Brussels and Amsterdam, along with shows at Hamburg and Koln.
This tour closes with a show in Denmark's Heartland Festival on June 8.
Some shows offer book signings, while other dates will see Cave engage in a Q&A Session on his memoir.
New of these 'In Conversation' dates were announced via the singer's Twitter account.
To celebrate the publication of Faith, Hope and Carnage on paperback on 1st June, Nick Cave & Seán O'Hagan have announced several 'In Conversation' and signing events across the UK and Europe. Visit venue websites for more details. pic.twitter.com/3yfI3AUx8q

— Nick Cave & The Bad Seeds (@nickcave) April 17, 2023
The memoir itself, covers over 40 hours of interviews between Nick Cave and reporter Seán O'Hagan.
Nick Cave On Losing His Anger
Back in January, Nick Cave also responded to criticism received from a fan, who claimed that the singer had lost his anger.
"When did you become a Hallmark card hippie? Joy, love, peace. Puke! Where's the rage, anger, hatred?", the fan whose name is Ermine, had asked Cave via his Red Hand Files newsletter. "Reading these lately is like listening to an old preacher drone on and on at Sunday mass".
It was at this point that Nick Cave pointed to the tragic death of his son Arthur as a turning point for him personally.
"Things changed after my first son died," Cave wrote. "I changed. For better or for worse, the rage you speak of lost its allure and, yes, perhaps I became a Hallmark card hippie. Hatred stopped being interesting. Those feelings were like old dead skins that I shed. They were their own kind of puke".
"Sitting around in my own mess, pissed off at the world, disdainful of the people in it, and thinking my contempt for things somehow amounted to something, had some kind of nobility, hating this thing here, and that thing there, and that other thing over there, and making sure that everybody around me knew it, not just knew, but felt it too, contemptuous of beauty, contemptuous of joy, contemptuous of happiness in others, well, this whole attitude just felt, I don't know, in the end, sort of dumb". 
Cave's son Arthur was 15 years old when he died, after falling from a cliff in Brighton.