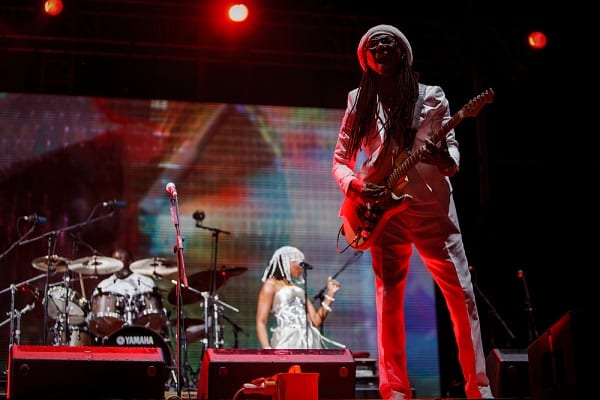 Nile Rodgers has been unable to bury his late mother, more than a month on from her passing in late December. Beverly Goodman sadly passed after her battle with Alzheimer's on December 27th, yet her remains have still not been laid to rest.
Speaking to Andy Coulson on a recent episode of the Crisis What Crisis podcast, Nile opened up about the death of his mother Beverly and how he has been unable to properly grieve her death, due to the current COVID-19 outbreak in New York.
Lamenting the death of his late mother, Nile explained his struggle to make any funeral plans while she is 'in the back of a refrigerator truck'. "Talk about crisis! It's horrible, breaking our hearts. When you go there and you see something that's so graphic like that, it really reminds you of images of people thrown into mass graves."
Nile explained that the coronavirus outbreak in New York means that his mother's body is still being kept in the back of a refrigerated truck, along with victims of the virus. The city experienced a surge in deaths during the winter, pressurising the city's morgues and hospitals. Many have implemented cooling trailers as mobile morgues to cope with the number of dead people.
Also on the podcast, Rodgers gave an insight into his upbringing and memories of his mother. The guitarist spoke of how they lived "alternative lifestyles," even if addiction took a toll on his family.
"My parents were super, super intellectual, very kind people and because of their love, I was able to get through their extreme self-centeredness because of their drug addiction," Nile explained. "When you're a heroin addict, you can't help but be self-centred. But they were very loving. They were victims of their addiction."
Last year, Nile opened up on how Alzheimer's disease runs through his family, confirming five family members have suffered from the disease. In lighter news of the disease, Rodgers gave a glowing review om how his mother began to sing following her diagnosis.
"I've never really heard my mother sing aloud in my life until she developed Alzheimer's," Nile explained. "She's developed perfect pitch, which is incredible. When my mom and I go walking down the street, she's all of a sudden got a real singer's voice, and she's hitting the notes perfectly."
In music news, Nile Rodgers has teamed up with Adam Lambert for the singer's groovy new lead single Roses. Rodger's awesome guitar work can be heard all over the song similar.