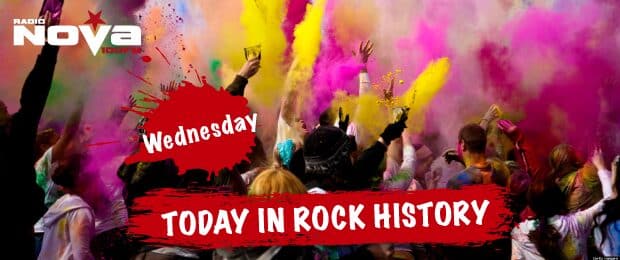 It's important to know your rock history, here at Radio NOVA we bring you ten rock stories from the sixties, seventies, eighties, nineties and the noughties.
On this day in rock history: February 11th.
1963: Averaging one song every hour, The Beatles recorded ten tracks for their debut album. John Lennon did 'Twist & Shout' in one take.
1965: John Lennon and George Harrison attended Ringo Starr's wedding to his girlfriend Maureen in London.
1969: The Monkees went to number one on the album charts with their second LP More Of The Monkees.
1970: Fleewood Mac, Grateful Dead and The Allman Brothers all performed at the Fillmore East venue in New York.
1972: A Pink Floyd show in Manchester was cut short after the venue suffered a power shortage. The band only played 23 minutes of their Dark Side Of The Moon set.
1972: Led Zeppelin released the single 'Black Dog' & 'Misty Mountain Hop' from their fourth album Led Zeppelin IV.
1992: Motley Crue got rid of their singer Vince Neil after he admitted to the band he had more passion for racing cars than for singing.
2008: Paul McCartney and Heather Mills appeared in court to settle the financial agreement of their divorce. Mills was awarded a settlement of £60 million.
2012: Whitney Houston was discovered dead at the Beverly Hilton Hotel. Speaking to repoters the Los Angeles Police said there were "no obvious signs of criminal intent." The singer was ruled to have died by "accidental drowning".
2014: Queen became the first band to sell 6 million copies of an individual LP. Queen's 1981 Greatest Hits, which included the monster tunes 'Bohemian Rhapsody' & 'We Will Rock You', was reportedly owned by 1 out of 3 families in the UK.