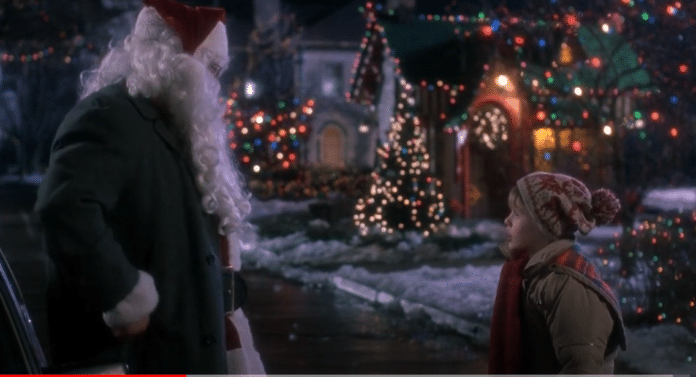 Some of Britain's best festive scenes from Christmas films come from Love Actually, Home Alone and Elf according to a poll. Hardly surpising!
The scene coming out on top with 23% of the votes, was in Home Alone, when Kevin McCallister (Macaulay Culkin) pleads with Santa Claus for his family's return.
Second spot also went to a scene from Home Alone, where Kevin McCallister stages a fake house party to foil the burglars Harry and Marv (Joe Pesci & Daniel Stern).
Another Home Alone scene to feature on the list, was "Keep the change ya filthy animal!". Hard not to say that line in the voice, isn't it? In the scene, Kevin plays a gangster movie, to trick a pizza delivery boy, into thinking there is an adult in the house.
That iconic catchphrase is also used in Home Alone 2.
Love Actually also made it onto the list of iconic festive film scenes, where Hugh Grant playing the prime minister kisses Natalie (Martine McCutcheon).
Other scenes included in the poll, were the classic Elf, where Buddy finds out Santa is coming to town, and yells "Santaaa!".
This voting poll included 1,500 people across Britain. It emerged that two thirds of the participants felt that sitting down to watch a Christmas film, marked the start of the festive season.
On average, people will watch around 6 films this year, with UK women expected to watch around 7 films, with men expected to watch 5.
Here we are, the top 20 Festive Scenes according to Britain:
Home Alone: Kevin McCallister asking Santa for his family back
Home Alone: Kevin staging a fake house party to foil the burglars
Elf: Buddy (Will Ferrell) the elf learns that Santa is coming to town, and shouts: "Santaa"
Home Alone: "Keep the change ya filthy animal"
The Polar Express: The boy finds his belief in Santa, and hears the bell ring
A Christmas Carol: Tiny Tim chants "God bless everyone"
Die Hard: Bruce Willis shouts "Yippe Ki yay"
The Snowman: James wakes up in the morning to see the snowman has melted
Love Actually: Hugh Grant kisses Natalie (Martine McCutcheon)
Elf: Buddy telling Santa, he is sitting on a "throne of lies"
White Christmas: Bing Crosby and cast sings "White Christmas"
Miracle on 34th Street: The judge rules in Santa's favour and he is freed as the real Santa Claus
Bridget Jones' Diary: Bridget Jones (Renee Zelleweger) chases Colin Firth in her underwear
The Grinch: The Grinch is invited round for Christmas dinner by Cindy Lou
Muppet Christmas Carol: Scrooge reveals he paid the mortgage for Bob
Bridget Jones' Diary: Mr Darcy and Bridget meet on Boxing Day in Christmas jumpers
It's a Wonderful Life: George runs through Bedford, having decided he wants to live
Jack Frost: The snowman dad says goodbye to his son for good
Frozen: Anna saves her sister Elsa by freezing herself
Muppets Christmas Carol: Scrooge meets the Ghost from Christmas Present, and they sing "It Feels Like Christmas".