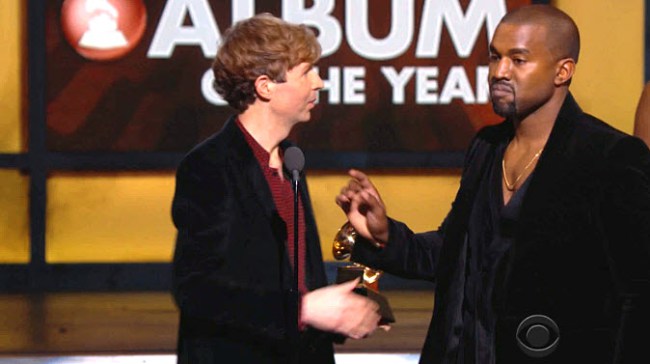 Noel Gallagher has been commenting on Kanye West's rant about Beck winning a Grammy instead of Beyonce.
The former Oasis singer didn't bite his tongue (has he ever), speaking about Beyonce, claiming that if "artistry" constitutes "shaking your ass for a living" then "she's right up there."
Gallagher described the singer-songwriter Beck as a "genius" and said that he has "no interest" in hearing the rapper's collaboration with Paul McCartney.
At this year's Grammys Beck was given the 'Best Album' award by Prince, for his LP Morning Phase.
After the Grammys Kanye West told The Hollywood Reporter: "I just know that the Grammys, if they want real artists, to keep coming back, they need to stop playing with us. We ain't gonna play with them no more and Beck needs to respect artistry and he should've given his award to Beyoncé."
"Because when you keep on diminishing art and not respecting the craft and smacking people in their face after they deliver monumental feats of music, you're disrespectful to inspiration and we as musicians have to inspire people who go to work every day, and they listen to that Beyoncé album and they feel like it takes them to another place," Kanye said.
In an interview with Stereogum about the incident, Noel said: "Well, No.1, somebody should buy that boy [Kanye West] a dictionary. And he needs to look up the f**king term 'artistry' and then see if it reminds him, in any way, of Beyoncé. If shaking your ass for a living is considered art, then she's right up there, no? Can I also point out: Beck can play the banjo. The banjo. That makes him a genius."
"We could boil this down to two separate things, Beck writes all his own music, OK? There you go, the end. You have to employ a f**king team of songwriters and eight producers and nine engineers, or you can sing it, hum it, play it yourself, I don't know. You decide. I know what side of the fence I'm on."
Noel chatted about the collaboration between Yeezy and Macca: "I'm not interested. I f**king love him [Paul McCartney] dearly, but if he was singing with Kanye that'd be different. Is he just like, noodling around on piano?"
Gallagher also weighed in on the Jack White rider leak: "I don't understand the culture of people poking fun at artists because they've got requirements on the rider which probably, speaking from experience, Jack White probably had very little to f**king do with, d'you know what I mean?".
Noel Gallagher appeared on Match Of The Day 2 on Sunday night as a pundit, read all about his very entertaining comments here.
Noel Gallagher and The High Flying Birds will be playing at Dublin's 3 Arena on Wednesday March 4th.