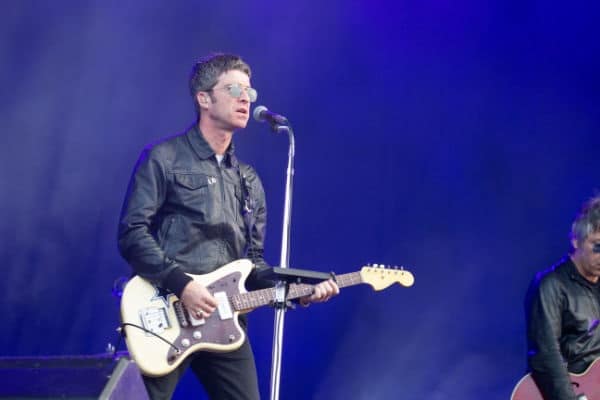 Noel Gallagher has described the new songs that he has written with the Black Keys as "f****** amazing".
The Black Keys who consist of duo Patrick Carney and Dan Auebach, are working on their 12th studio album, and have already added that they have been long term admirers of the works of the Gallagher brothers.
Praising Noel Gallagher in a previous interview, Patrick Carney said, "He's hilarious and super talented, We were referring to him as 'The Chord Lord' because he's just a perfectionist with it".
Carney also revealed that himself and Auerbach are also fans of estranged brother Liam, explaining that the former Oasis' frontman's single 'Everything's Electric' inspired the pair to work with collaborator Greg Kurstin, (the song's producer).
"Dan and I are big fans of him and Liam", Carney said. "Actually, the Liam song 'Everything's Electric' is why we decided to work with [Greg] Kurstin [who produced the track]".
"They're f****** amazing"
In a recent interview, Noel Gallagher has claimed that he has written three songs with the Black Keys, describing them as "f****** amazing".
"We did a week in the studio in London and wrote three songs and I've gotta tell you, they're fucking amazing", Gallagher said.
However despite working with Auerbach and Carney, Noel Gallagher also stated that he is not keen on artists who work with co-writers.
"I never loved the Beach Boys", Gallagher added.
"I was watching a documentary once and I was like, hang on a minute. Who the fuck's this Van Dyke Parks? Oh, he's the lyricist? It's like, what? Brian Wilson didn't even write the lyrics? Well, what the fuck? Why is he revered as a great songwriter?".
Gallagher added, "And, um, Harry Styles and Ed Sheeran and all the rest of them, I'm sorry. Once you employ outside people … they're solo artists. How can he be a solo artist if there's someone else co-writing the f*****g songs for you? If you are writing songs with a guy, be in a band with that f*****g guy!".
Speaking of artists, Noel Gallagher did speak of another musician that he loves working with, which is the Cure's Robert Smith. Find out what he said here.