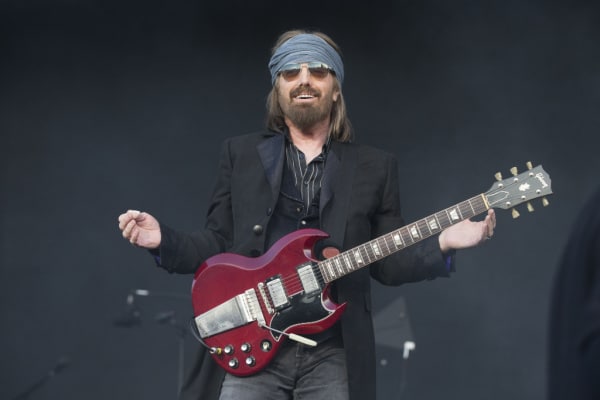 A set shows which the late Tom Petty called the hightlights of his career, will be released in a box set later this year.
The box set, Tom Petty and the Heartbreakers Live at the Fillmore (1997), will arrive on November 25. It covers the band's 20 concert residency, which took place between 10 January and 7 February 1997.
In what was Tom Petty's first gig in 13 years, the box set will be released in a basic two-CD and three-LP, including 33 tracks. 18 of these tracks are covers.
The box set will also include six LP and four CD deluxe versions with 58 tracks. Thirty five of these tracks are also covers. It will also contain a six LP Uber Deluxe package, which can be purchased from Petty's official website.
Extras are also included, featuring an eight page fan club newsletter from 1997, along with a replica baseball hat and other memorabilia.
One song from the set list also include's 'Listen To Your Heart'. Check it out below.
The covers featured in the setlist also include the Kinks' 'You Really Got Me', the Rolling Stones' 'Satisfaction', JJ Cale's 'Call Me The Breeze', The Grateful Dead's 'Friend Of The Devil', Bill Wither's 'Ain't No Sunshine', and Bob Dylan's 'You Ain't Goin Nowehere'.
"Some of my favourite gigs"
This box set from the Tom Petty residency was co produced by Heartbreakers guitarist Mike Campbell and Ryan Ulyate.
Last month, Campbell spoke about the 1997 shows, calling them "some of my favourite gigs".
He added, "So I'm glad to have that coming out, properly mixed and in a package that's really good. I think that's a piece of the Heartbreakers that shows a lot of depth that you don't hear on the normal concert sets. The band was so good at thinking on their feet and playing songs spontaneously, and the Fillmore captures that. It's one of my favorite things we ever did".
Campbell had confirmed that a box set was on the way earlier this year.
"It's been mixed, [and] I hear it is coming out," he said in February. "I'm really proud of it. It was one of the greatest parts of our career. We were free to not have to play the hits every night. We changed the songs and took some liberties with some of the arrangements here and there. I'm really glad we got that on tape. Of course, we had some guest artists like John Lee Hooker, Roger McGuinn, Bo Diddley". 
Speaking of Petty, the late music icon was awarded a posthumous PHD in music from the University of Florida last December.