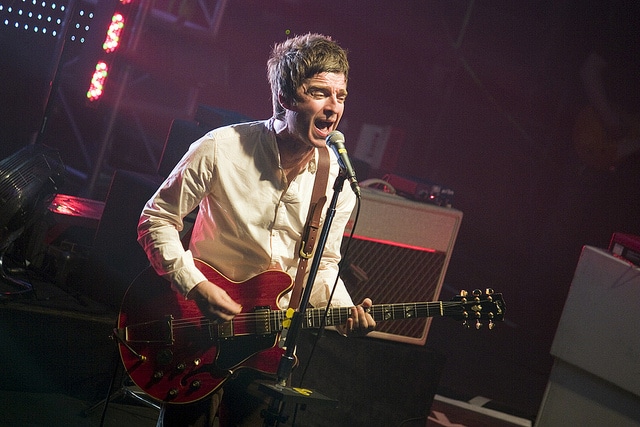 Former Oasis guitarist Noel Gallagher has stated that he would like to headline Glastonbury 2015.
Noel made the comments at a live Facebook Q&A at the social networks' London headquarters earlier in the week.
During the event the singer-songwriter discussed his upcoming second album with his band High Flying Birds, talked about Johnny Marr, Oasis, Glastonbury and recalled the one time he decided to grew a beard, only to be ridiculed by Paul Weller.
Gallagher was asked about headlining the Pyramid Stage at Glasto next year.
He said, "If it I was asked, yeah. I'll headline the spoken word tent, anything. I was there this year, all three days, but I didn't see a single fucking band – I watched it all on iPlayer when I got home. It was brilliant – I didn't see anything. I clapped Lars [Ulrich, Metallica] on stage and as much as I love him – I've known him for about 20 years – after about 30 seconds it dawned on me, Fuck, this is heavy metal! And we went off to go to some acid house tent and relive our youth. But yeah, if you're watching, Michael Eavis, I'll do it."
Noel continued, speaking about the disappointment he felt after playing the festival with Oasis.
"We never really got on with [Glastonbury]. I don't know why. The time that we did it when we should have been great was the first year we headlined it and we got sidetracked because we'd just come out of the studio from making '…(Morning Glory)' and decided – it was fucking suicide – to play six tracks off '…(Morning Glory)' that no one had heard, one of them being 'Champagne Supernova' which goes on for about half an hour. I remember playing 'Don't Look Back In Anger' for the first time to silence – the only time that ever happened. But I'd be up for doing it [this year]. I'm going to go regardless."
His new album Chasing Yesterday is due out on March 2nd 2015 and is the first album that Gallagher has produced. Noel said producing the record was a "a major pain in the arse".
Listen to the new single 'In The Heat Of The Moment' here.
At the Q&A Gallagher announced that he'll be playing at Dublin's 3 Arena on Wednesday March 4th. If you want to win tickets to see Noel, listen to Pat Courtenay every afternoon from 2pm – 7pm, he is giving away a pair of tickets everyday this week.
See who else is in the running to headline Glasto 2015 here.