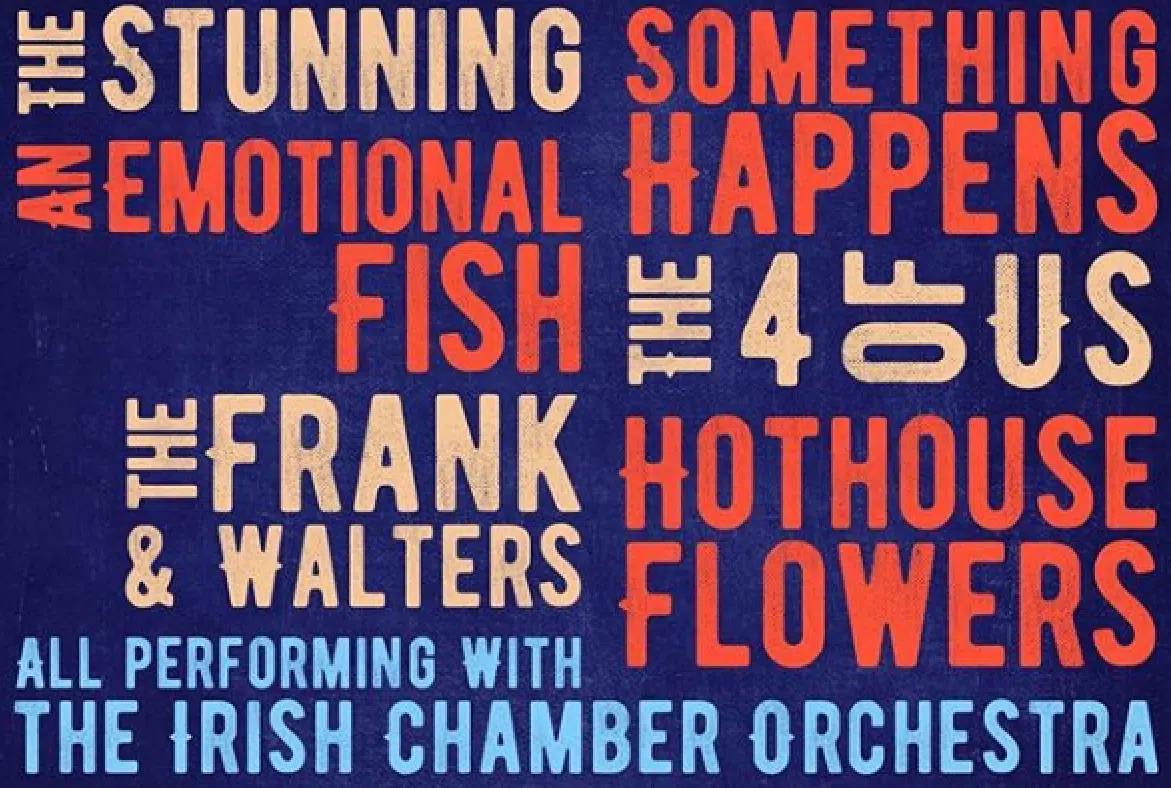 The Trip To Tipp is back for 2018 albeit, with a slightly different twist!
A brand spanking new one-night only, fully seated, outdoor concert is set for Semple Stadium Thurles on Saturday, September 22nd and it will feature none other than The Stunning, Hothouse Flowers, An Emotional Fish, Something Happens, The 4 of Us, The Frank & Walters and The Irish Chamber Orchestra.
The nineties, the tribal days of Irish music, the days where the music you loved defined your identity; whether you were a punk, a grunger, a rocker, a raver or an indie kid – your hair, clothes, makeup, shoes and any other obscure place in-between carried an emblem, a lyric, or an album title.
But the chances of ever seeing a few of your bands on the same bill? That was inconceivable…. Then one glorious summer weekend in 1990 the Trip to Tipp happened and the lives of young Irish music fans changed forever!
28 years ago, Féile became the first ever multi-day Irish music festival which was a revolutionary mecca for every tribe of music-fan, all clamoring to its one stage… it was a rite of passage for both the Irish acts on its line-up as it was for ticket-holders.
https://www.instagram.com/p/Bh7dOmqhCeX/?hl=en&taken-by=feile_classical
After its long hiatus Féile will finally make an electrifying return to Thurles this year as Féile Classical. Tom Dunne, who's band Something Happens performed at Féile '90, '91 and '93 and who's album Tom Dunne 30 Best Irish Hits, was one of the biggest selling Irish compilation albums ever, is the driving force behind Féile Classical delights:
"The Feiles and Italia 90 tend to merge in my head: a time of incredible optimism and fun, when it seemed Irish bands – almost all of whom could lay claim to at least one timeless classic – ruled the day. The Trip to Tipp was the Mecca for Irish bands, a celebration of Irish rock music that had never been seen before."
In stark, stark, contrast to the Féile days of the 90s, Féile Classical will be a fully-seated concert with modern-era luxuries like a choice of clean toilets, gourmet food tents, gin and prosecco offerings and pints that are poured from a keg!
Tipperary's own John Meagher, both an Irish Independent music critic and GAA enthusiast, will curate the Tribal tent, dedicated to discussion of the Féile glory days when Semple was associated more with live music, than hurling! Discussions will also focus on the importance of sport and music in the day-to-day lives of Irish people and our tribal following of both.
The grounds flanking the pitch will also display a photography exhibition of the fans and bands of Féiles past, featuring mohawks, dodgy jumpers, seas of cans and mosh-pits of dreams! Tip: Don't bring your kids for embarrassment purposes!
Dunne concluded: "This concert has been in the ether for some time now, and myself and the bands are really excited to be collaborating with the Irish Chamber Orchestra to put together a glorious in your face celebration of a special time in Irish music! Féile was special, it was iconic, it was our Woodstock and Féile Classical will be an even bigger, better, louder explosion of the best of those days and so much more."
Tickets from  €49.50 plus booking fee go on sale this Friday, April 27th at 9am.