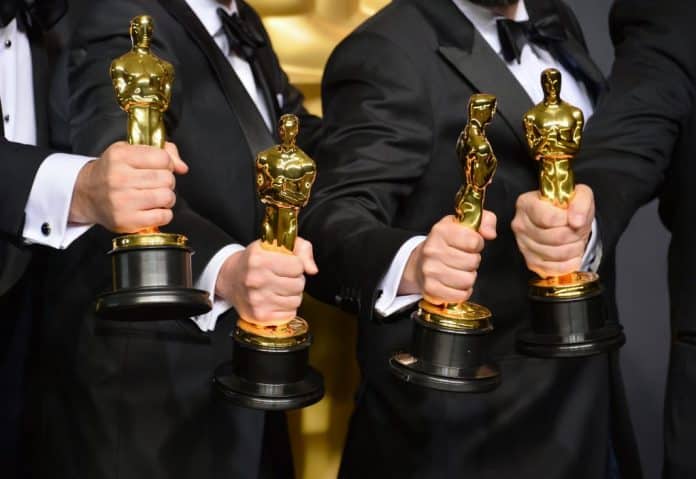 Actress Saoirse Ronan, director Martin McDonagh, actor Daniel Day-Lewis, designer Consolata Boyle and studio Cartoon Saloon all sadly went home empty handed from this years Academy Awards.
In what many are calling a predictable Oscars ceremony, "The Shape of Water" was the big winner of the night not only taking home the coveted Best Picture statue, but also the most on the night: 4.
This final award was presented by Faye Dunaway and Warren Beatty who returned to the Dolby Theatre stage for a second time, following monumental bungle at last year's ceremony that saw them announce the wrong winner in the same category.
While last year Harvey Weinstein walked the Oscars red carpet just like his fellow movie moguls. This year, he was a punchline in Jimmy Kimmel's opening monologue.
Kimmel paid tribute to the Time's Up movement in the first few minutes of Sunday's Academy Awards. He called the reckoning "long overdue" and said "things are changing for the better."
He also found ways to slip in a few jokes pointing to the larger-than-life Oscar statue on stage saying "Just look at him. He keeps his hands where you can see them. Never says a rude word. And most importantly, no penis at all. He is literally a statue of limitations. And that's the kind of men we need more of in this town!"
I told some jokes at an awards show tonight… https://t.co/RlI11SC2Qs #Oscars #monologue @TheAcademy @ABCNetwork

— Jimmy Kimmel (@jimmykimmel) March 5, 2018
The first award of the night went to Sam Rockwell for best supporting actor for his role in "Three Billboards Outside Ebbing, Missouri."
"Dunkirk" has also had a strong night, taking home multiple awards, including sound editing and sound mixing.
Wearing a shirt with "Call Me by Your Name" star Timothée Chalamet's face on it, 89 year old James Ivory, accepted his first Oscar for best adapted screenplay becoming the oldest Oscar winner ever.
In the biggest stunt of the evening, Kimmel wanted to thank moviegoers for their contribution to the industry. He enlisted the help of celebrity volunteers from the crowd to surprise a group of unsuspecting people at a nearby theater who thought they were seeing "A Wrinkle in Time."
The starpower for the stunt included Ansel Elgort, Mark Hamill, Guillermo del Torro, Gal Gadot, Lupita Nyong'o, Emily Blunt, Armie Hammer, Lin Manuel Miranda and Margot Robbie
ONLY AT THE #OSCARS: @jimmykimmel led a group of movie stars to a nearby theatre, surprised the audience with a hotdog cannon, expressed Hollywood's appreciation for moviegoers, and selected one viewer to introduce the next presenters. https://t.co/lJd891ISOk pic.twitter.com/Vho76WCx1T

— ABC News (@ABC) March 5, 2018
Among the other highlights on Hollywood's night of nights, Best Actress Oscar winner Frances McDormand used her acceptance speech to make a bold statement.
"If I may be so honoured to have all the female nominees in every category stand with me in this room tonight. Meryl [Streep] if you do it everybody else with, come on. The film makers the producers, the directors, the writers, the cinematographer, the composers, the song writers, the designers."
One by one, the women who make up Hollywood stood up in the crowd at the Dolby Theatre as the crowd erupted with applause.
Frances McDormand asks all the female nominees in every category to stand with her. "Look around, everybody…because we all have stories to tell and projects we need financed." https://t.co/lJd8920ucU #Oscars pic.twitter.com/pOLaWHatZK

— ABC News (@ABC) March 5, 2018
Ashley Judd, Salma Hayek and Annabella Sciorra (who all have accused Harvey Weinstein of misconduct) also took to the stage to talk about the women who have spoken out against predators in Hollywood.
The In Memoriam segment featured Eddie Vedder singing Tom Petty's Room at the Top of the World. Harry Dean Stanton, Jonathan Demme, Martin Landau, Roger Moore, Sam Shepard, Jeanne Moreau and Jerry Lewis were just some of the names mentioned. Batman star Adam West and a number of former Academy Awards winners were strangely ommited from the segment.
We take a look back on some of the stars who passed away in the last year, including Roger Moore, John Heard and Don Rickles. https://t.co/lJd8920ucU #Oscars pic.twitter.com/K9nPCPPwbF

— ABC News (@ABC) March 5, 2018
You can watch highlights from The 90th Academy Awards on RTÉ2 on Monday at 9:30pm.