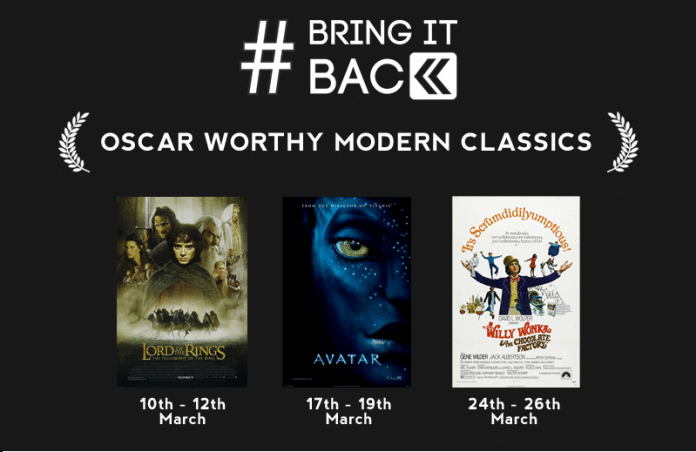 It's all about movies this weekend with the Oscars taking place in Hollywood in the wee small hours of Monday morning our time and to celebrate, Omniplex are rolling out the red carpet for some more movie greats as #BringItBack continues with some very special screenings for their Oscar Worthy Modern Classics Series.
Featuring films such as The Lion King, Thelma & Louise and Avatar, the #BringItBack Oscar Worthy Modern Classics series offers something for everyone in an eclectic mix that shares a common theme as some of the industry's most celebrated, backed by a roll call of awards, accolades and nominations.
This Oscars weekend, from March 3rd to 5th, you can see Thelma & Louise; the 1991 American road film that received six Academy Award nominations and is now regarded as a landmark feminist film and true classic that remains hugely influential in film circles. The film follows the story of Thelma (Geena Davis) and Louise (Susan Sarandon) as they embark on a road trip with unforeseen circumstances, with supporting cast including Brad Pitt whose career was famously launched by the film.
On Saturday, March 10th, epic adventure and fantasy film, The Lord of the Rings: The Fellowship of the Ring returns to Omniplex for its three-day run. Based on the first volume of JRR Tolkien's masterpiece series set in Middle Earth, the film is regarded as one of the greatest fantasy films ever made. Earning $871 million worldwide and nominated for 13 Oscars, it remains highly acclaimed by both the critics and fans across the globe.
For St. Patrick's Weekend, March 17th to 19th, screens will turn blue over green for James Cameron's Avatar, the 2009 epic science fiction film set in the 22nd century where humans are colonizing a lush moon called Pandora occupied by a local tribe of Na'vi. Using new motion capture film techniques, Avatar was regarded as a breakthrough in cinematic technology and visual effects. The highest grossing film of all time, it was nominated for 9 Academy Awards and now has four sequels in planning with two already in the making.
This #BringItBack series concludes with sweet family favourite in time for Easter, Willy Wonka & The Chocolate Factory, the musical fantasy starring Gene Wilder as Willy Wonka and based on Roald Dahl's famous tale. The film tells the story of Charlie Bucket who receives a Golden Ticket to visit this famous chocolate factory with four other children from around the world. The film remains hugely popular 47 years on, continuing to mesmerise audiences of all ages in all its glorious strangeness, from fabulous sweets like the everlasting gobstopper, the Oompa Loompas, Willy Wonka's whacky inventions and chocolate river that flows through the factory, all brought to life with a memorable musical score.
Speaking about the #BringItBack season, Marketing & Loyalty Manager, Shauna Crawley, said "We're delighted to be able to bring back some of our customer's favourites to the big screen. The wonderful thing about a special movie is that it can transport you back to the first time you saw it – whether that's your first date with your now wife or husband or the one where you and your friends laughed so hard you cried! We're hoping to help our customers relive these memories through each of these movie classics at Omniplex".
Having already treated audiences to Oscar Worthy Romances, An Officer and A Gentleman, When Harry Met Sally and Casablanca, #BringItBack sees some of the world's most loved movies returning to Omniplex, enhanced by the best in modern day cinema experiences – quality projection, state of the art sound technology and of course, the comfiest seats. Omniplex Cinemas roll out #BringItBack every Saturday, Sunday and Monday night, in nine locations including Rathmines, Dublin.
For tickets, priced at €8, and more on Omniplex Cinema's #BringItBack line up, visit www.omniplex.ie.