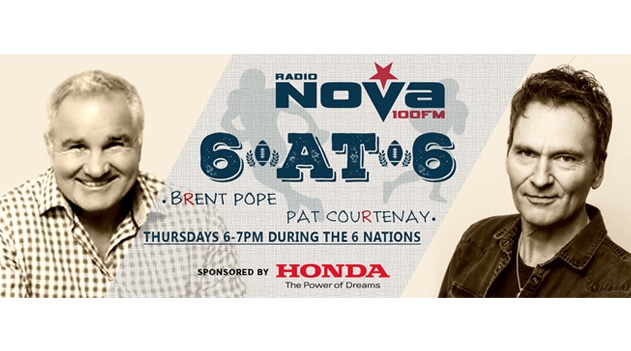 Starting Thursday, February 1st and running for seven weeks, we'll be bringing you our own unique twist on The Six Nations Championship. Radio Nova's '6 At 6' runs from 6pm-7pm for 7 weeks with Brent Pope & Pat Courtenay!
Every Thursday the legendary Brent Pope will join Pat Courtenay in studio as they look forward to the weekend's games. And first up is France V Ireland, in the Stade De France.
Does Brent Pope still believe we can claim the Grand Slam as he has so often stated, or with a resurgent Scotland has his expectations dropped?
Of course, with no Brent on TV this year, Nova is the only place to get your annual Popey fix. And being 2 Kiwis, Brent and Pat are not afraid to say it as they see it. No holds barred, no prisoners taken the '6 At 6' will become the home of honest, excellent punditry. You can expect it to get a little hot and heavy in places. There will be special guests dropping by and the lads will be encouraging listeners to call directly into studio to challenge the two men on their opinions.
Add Nova's 'Seriously Addictive Music' into the mix and you have the perfect sports show for the Six Nation Championship.
The '6 At 6' with Pat Courtenay and Brent Pope starts this Thursday 1st and it's brought to you by Honda, Power Of Dreams.