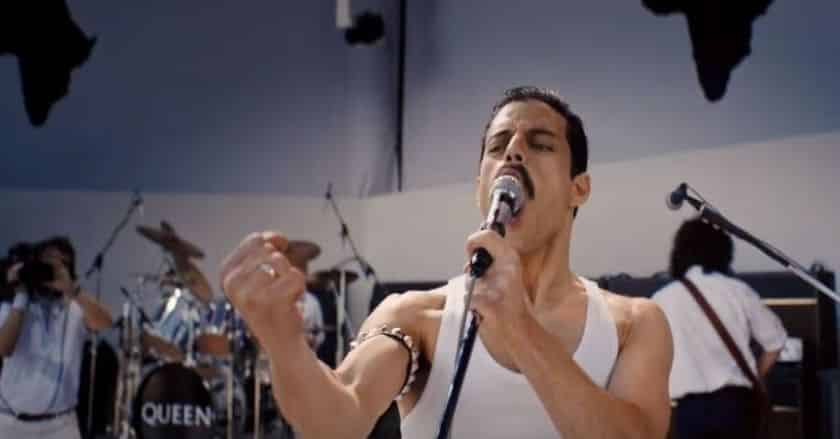 The official trailer for the Queen Bio has arrived and thankfully it looks pretty awesome! There's plenty of shots of actor Rami Malek as Mercury, which serves to confirm that his casting has been a masterstroke of luck and genius. In a statement, guitarist Brian May said the film is much 'more than a documentary of someone's life, it's a piece of pure art, chiseled out of solid rock.' The full Bohemian Rhapsody trailer is available to watch below…
The movie's story line remains unclear in the trailer which offers only a short look at the band's early years. There's the infamous moment where Mercury tells May where 'the operatic section comes in' on 'Bohemian Rhapsody.' It's been a turbulent transition to the silver screen for this particular biopic. Many have abandoned ship or were jettisoned amid stories of infighting, personal clashes and arguments concerning the direction of the project.
Roll back to 2013, when Sacha Baron Cohen, who had a remarkable resemblance to the late frontman, left the role of Mercury. According to Deadline, 'the band wanted to make more of a PG movie about Queen while Cohen was counting on a gritty R-rated tell-all centered around the gifted gay singer.' This grittier direction was rejected by Queen guitarist Brian May. Whether that's how Mercury would have wanted it remains as conjecture.
In 2016 speaking to Howard Stern, Cohen said that May was 'an amazing musician, but not a great movie producer'. May replied, accusing Cohen of spreading 'untruths' and calling the actor an 'arse'. According to reports, May wanted a plot that would see Mercury's story ending halfway through, leaving the rest of the film to concern itself with the band's resilience in the face of adversity.
Gwilym Lee : Brian May
Then there was the constant struggle with finding and keeping the right director. The project seemingly suffering a high staff turnover akin to the formative Trump administration. Director Tom Hooper (The King's Speech, The Danish Girl) shortly left after Cohen in 2013 citing creative differences as the reason for the split, Hooper was replaced by actor and director Dexter Fletcher (Eddie The Eagle) but the venture did not last long and Fletcher chose to exit over continuing differences of artistic opinion.
Dexter Fletcher
Finally, enter Bryan Singer, and it looked like the project was finally on course, with Rami Malek enlisted to play Mercury despite initial rumours of Ben Whishaw undertaking the role. The project was in full steam last year before Singer was unexpectedly fired last December. At the time of departure, Singer was embroiled in allegations of sexual misconduct.
Dexter Fletcher returned as the project's ultimate saviour and would receive the credit as the film's director. Gauging by this trailer, Fletcher's done a remarkable job at capturing the story of the band and the spirit of their rock and roll antics.