What better way to kick off the festive season then with Taste of Dublin: Festive Edition on in the RDS this Thursday November 28th to December 1st.
Brought to you by the team behind the popular Taste of Dublin summer festival that has taken place in the city for the past 14 years, this event is promising an amazing array of workshops and demonstrations lined up over the four day festival.
The RDS Main Hall will be transformed into an indoor festive feast for the senses where visitors can soak up the gourmet atmosphere, celebrate the season and explore the latest food trends in a stylish and cosy setting.
Taste of Dublin: Festive Edition is a premium foodie experience and this is our pick of some of this year's highlights and how you should plan out your day…
SCROLL DOWN FOR THE BEST OF THE FEST
10 – Live entertainment by High on Heels 
Performing LIVE at all sessions of Taste of Dublin's Festive Edition will be one of the UK's top all-female music groups. Mixing up the collaborations live on stage between a DJ, Percussion, Vocalist and a Saxophonist, High on Heels will specially tailor each session at this year's Taste Festival to fit everyone's preferred style of genre.
9 – Festive Tablescaping and Crafting 
Deck the halls (and tables!) with a festive tablescaping and crafting masterclasses! Whether it be a Christmas Eve dinner or a Christmas Day lunch you will come away with some incredible ideas to work with, which will WOW your guests and certainly enhance your hosting status. Maria Reidy Signature Events will be on hand to give her top tips and tricks.
#TasteOfDublin: Festive Edition will feature so many of your favourite aspects enjoyed at Taste of Dublin in the summer… but this time served with a Festive twist 🎄🍴🧀🍷

Grab your group and come join the festive fun, 28 Nov – 1 Dec | @TheRDS | Tickets: https://t.co/H6RNE7XYgw pic.twitter.com/ePvH9YrmDB

— Taste of Dublin 🍴🍾 (@TasteDublin) November 18, 2019
8 – Family-Friendly Sunday
Sunday 1st December is the day for the whole family with Gingerbread House workshops, Festive card crafting and edible gifts just some of the great family and kid-friendly activities scheduled across the afternoon.
7 – The Cheese Block
Sample the finest Irish cheese producers at the festive cheese bar! Young Buck, Corleggy, Ballylisk and Galway Goat Farm are the fantastic names popping up so don't miss out!
6 – Drinks Theatre
Sample a wide range of craft drinks and hear the stories behind some of the most innovative and interesting Irish, artisan brands on the market. From Hot Ciders to Merry Margaritas to Jingle & Tonics and Roe & Cosy hot whiskey cocktails there is something to satisfy every palette. They have a number of boutique bar experiences popping up over the four-day festival from boutique bar experiences with Schweppes, Kopparberg, Wilde Gin, Peroni & Campo Viejo
5 – SO Prosecco Masterclass
Speaking of drinks, SO Prosecco will be hosting a tasting of their SO Prosecco Range including their two Cuvée Prosecco from Valdobbiadene on Sunday, Nov 29th at 3.15 pm. Book a spot and hear their story and taste some wonderful bubble varieties combined with Italy's traditional Christmas cake the Panettone, a perfect combination.
4 – Butchery & Charcuterie Masterclasses 
Bored of turkey? Michael Bermingham of MK Meats will introduce visitors to plenty of tasty alternatives from spiced beef to duck and goose. Find out what a turducken is and sample some for yourself. The Wooded Pig will also be handing out their tasty products and speaking about their passion for producing the highest quality Irish charcuterie using ethically raised free-range Irish Meat.
3 – Learn How to have a Zero Waste Christmas 
Conor Spacey of FoodSpace will discuss how the food choices you make over Christmas can be more sustainable. Let Chef Conor give you tips and demonstrate a zero waste Christmas that is good for you and the planet.
2 –Trolley of the Year Triumphs
Earlier this year the Ballymaloe House dessert trolley was awarded "Trolley of the Year" at The World Restaurants Awards. Created by Myrtle Allen when she opened the doors of Ballymaloe House, today JR Ryall oversees the pastry kitchen ensuring the dessert trolley offers old fashioned generosity that we nostalgically remember – and he'll be at Taste Festive to talk all things sweet.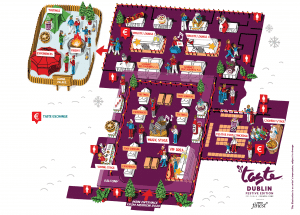 1 -DID Electrical Chefs Theatre
A truly unmissable Taste experience is The DID Electrical Chef's Theatre. Hosted by our very own Ruth Scott, this where you'll spot Ireland's top culinary talent as they slice and dice their way through all our favourite festive recipes. The incredible line up at The DID Electrical Chef's Theatre includes: Adrian Martin, JR Ryall, Rory O'Connell, Shane Smith, Nicola Curran, Rachel Allen, Brian McDermott, Patrick Ryan, Erica Drum, Sharon Hearne Smith, Paul Kelly, Jeeny Maltese, Aoife Noonan, Edward Hayden, Mark Moriarty, Graham Herterich, Holly White, Lizzy Lyons, Ciara Brennan, Alberto Rossi, Karan Mittal, Edward Hayden, Jack O'Keeffe & Ludovic Lantier.
Taste of Dublin: Festive Edition
Dates: November 28th to December 1st – 4 days
6 Sessions: Thurs 28 Nov 17.30-22.30 : Fri 29 Nov 12.00-16.00 & 17.30-22.30 : Sat 30 Nov 12.00-16.00 & 17.30-22.30 : Sun 1 Dec 12.00-18.00
Prices: Tickets from €16:26. Signature dishes will be €5 (choice of 3 from each restaurant) and Icon dishes will be €10 (a more luxurious dish or a sharing plate) They can all be purchased with debit & credit cards
For more info and tickets CLICK HERE