Ozzy Osbourne claims Bill Ward is too overweight to tour with Black Sabbath. Although a contractual dispute kept the drummer from participating in the band's recent comeback, Osbourne said he doesn't believe Ward could rejoin the band even if he wanted to.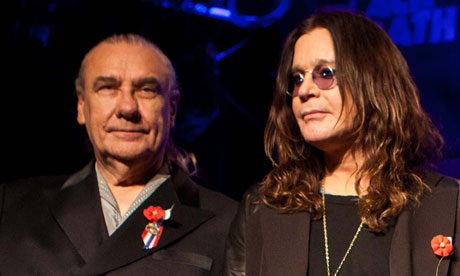 "I don't think [Bill] could have done the gig, to be honest," Osbourne recently told the New York Daily News. "He's incredibly overweight. A drummer has to be in shape. He's already had two heart attacks. I don't want to be responsible for his life."
Osbourne had previously touched on Ward's problems during an interview with Mojo magazine. "He [is] so out of condition," Osbourne said. The singer recalled a rehearsal from when the Black Sabbath reunion was first proposed. "You know them yellow fucking stick-on memo notes? He had them all over his fucking drums … He couldn't remember what the fuck we were doing."
Apparently, Black Sabbath were open to gigging with Ward, but suggested that the 65-year-old only play part of each set. Ward didn't agree: "I play all or nothing," he explained to Guitar International. "I'm the drummer in Black Sabbath so I want to do the entire show." He also denied he was out of shape: "I would never, ever show up for a commitment that I could not do physically."
Despite Osbourne's harsh comments, he insisted that "the door is always open" to Ward's return. "It's not the same [without him]."
Black Sabbath's first No 1 album in 43 years, 13, was released in June. They are currently on a North American tour.