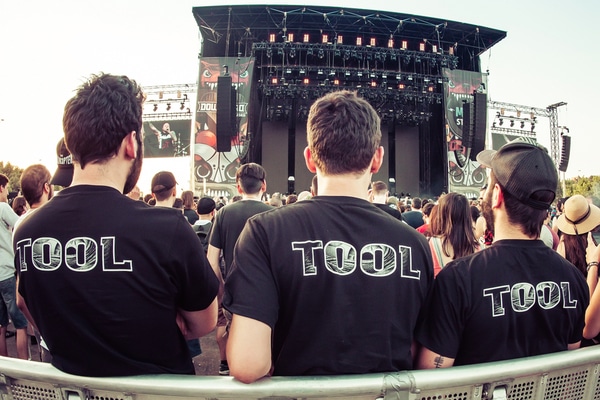 A paralysed Tool fan who is suffering from ALS has used a new brain implant to ask to hear the band's latest album.
ALS stands for Amyotrophic lateral sclerosis. This disease destroys the nerves that control a person's movement. Patients can use an eye-tracking camera to choose letters on a screen. They can also use subtle eye movements for yes-or-no questions as the disease severes.
After that, many patients are left in a locked-in state, unable to communicate.
"an invasive implant" 
The patient in question had joined a research team at the university of Tübingen in 2018.
While still being able to move his eyes, he told the team at the time that he wanted "an invasive implant to try to maintain communication with his family, including his young son". 
This implant allowed the patient to select letters to form sentences.
Progress was slow in the beginning as the team discovered that the neural signals lacked consistency to answer the yes-or-no questions.
However, after the neurofeedback was pivoted, some progress was made. The neurofeedback is where a person attempts to change their brain signals, while getting a real-time measure of whether they are succeeding.
Whoa! A brain implant that enables a patient with ALS to communicate. https://t.co/e1akNj5hUM

— Dr. Brian Goldman (@NightShiftMD) March 23, 2022
"I would like to listen" 
Following a year of work, the patient was able to form sentences together. Such sentences included, "I love my cool son" and "Goulash soup and sweet pea soup".
The patient subsequently uttered this statement, "I would like to listen to the album by Tool loud". 
However despite this progress, the patient is limited to answering yes-or-no questions now. Researchers at Wyss Center have said that his spelling has declined, as scar tissue around the implant has obscured the neural signals.
However, researchers have insisted that they are committed to continuing their work with the patient.
"There's this huge responsibility. We're quite aware of that", said Jonas Zimmermann who is a neuroscientist involved in the study.
Tool Tour
Meanwhile, Tool are to embark on their first European Tour since 2019 next month, called Fear Inoculum.
Starting in Copenhagen on April 23, the band will perform live in places like Oslo, Stockholm, Manchester, including a gig at Dublin's 3Arena on May 6. They will conclude the tour in Budapest on May 24. More on this here.
Tickets can be found here.
The band had also confirmed they were selling a limited edition Fear Inoculum ultra-deluxe vinyl LP box set back in February.