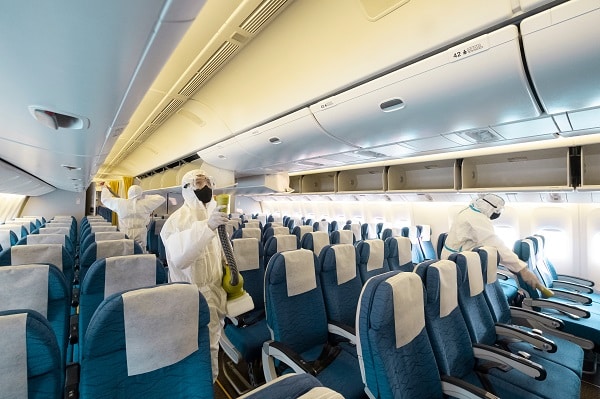 At least four passengers contracted the coronavirus from one pre-symptomatic man on board a flight from Dubai to New Zealand. This is despite the passenger testing negative just 48 hours before departure.
Authorities in Auckland revealed the case after infections emerged during a fourteen day stay in isolation. Although eighty-six passengers were on board the flight, just seven passengers tested positive during their mandatory quarantine. Four of which came from one man.
The infected passengers travelled from five different countries and boarded the aircraft in Dubai, which was bound for New Zealand. All involved sat within four rows of each other on the flight.
A case study of extended in-flight transmission of SARS-CoV-2 en route to Aotearoa New Zealand has been released.
"By combining information on disease progression, travel dynamics and genomic analysis, we conclude that at least four in-flight transmission events of Sars-CoV-2 likely took place," researchers have said. "Four of these six related genome sequences were from Switzerland, the country of origin of the suspected index case."
Experts have said this case exemplifies the risks of flying during the pandemic. This is despite in-place precautions that are designed to protect passengers, including pre-flight testing and mandatory masks.
Symptoms of Covid-19 typically develop five to six days after the person contracts the virus but can spread the infection two to three days before showing signs.
The case study says the flight's original case likely became infectious after he took the pre-flight test. However, he did not become symptomatic until 71 hours after the flight.
The transmission occurred despite the use of masks on board. David Freedman, an infectious-disease specialist at the University of Alabama told The Washington Post, which first reported the study this weekend, the length of the flight may also have played a factor.
"It would have been really hard for people to keep their masks on for the entire 18 hours," he said.
New Zealand's strict procedures for returning travellers require passengers to stay in quarantine facilities for 14 days upon arrival. This played a huge factor in the case study being performed. New Zealand's policy has been in place since March.
The seven cases detected were among another 215 diagnosed. This is out of a total of 62,698 arrivals into New Zealand as of October 20th.