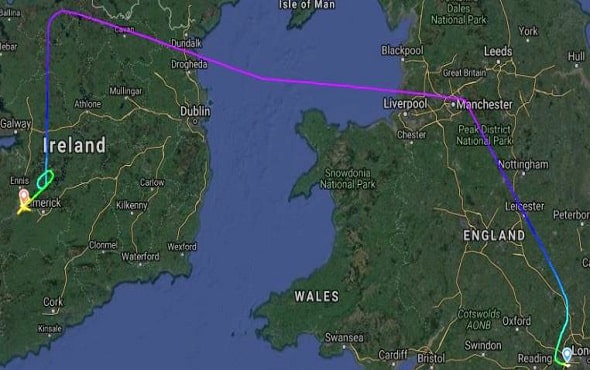 An American Airlines flight AA-141 was flying from London to New York yesterday evening. Less than an hour into its journey the plane had to divert to Shannon.
According to reports, the aircraft was travelling with 168 passengers and 13 crew when it was forced to make an unscheduled landing at the Irish airport.
The Boeing 777-200 jet had departed Heathrow at approximately 7.48pm and as it was flying over Ireland crew requested permission from air traffic controllers at Shannon to divert and land at the airport.
The crew confirmed they had incurred "damage to the front windscreen." and as it made its descent, rescue crews were on standby. The plane landed safely at Shannon at 9.10pm.
After passengers disembarked safely the flight was cancelled and the passengers spent the night in hotels in Clare and Limerick. The broken window was in front of the captain's position and it wasn't immediately apparent how this occurred.
INCIDENT: American #AA141 London Heathrow to New York JFK (Boeing 777-200ER N773AN) diverted to Shannon at 2015UTC tonight due to a cracked windshield. The flight is now scheduled to continue at 1400UTC tomorrow (via AA web site). pic.twitter.com/96o1YVtSHI

— Airport Webcams (@AirportWebcams) September 30, 2019
A spokesperson for the Airline confirmed the flight had made an unscheduled landing with a 'mechanical issue' and that passengers were given overnight accommodation.
The airline also confirmed that another aircraft will be flown in to resume the journey this afternoon.
Source: Pat Flynn via Breaking News