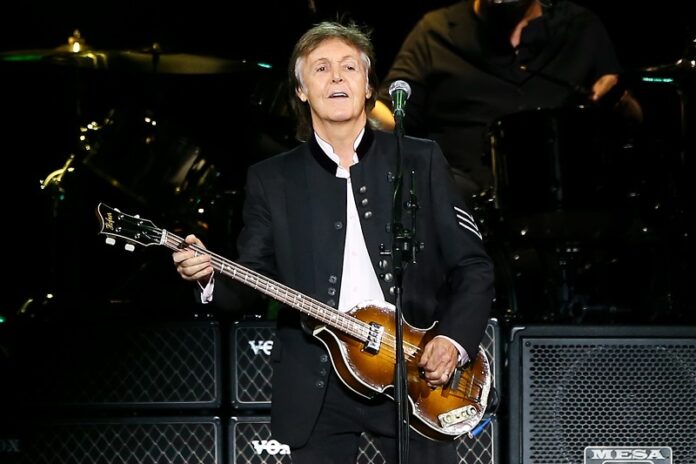 Paul McCartney has praised Peter Jackson for his new Beatles documentary entitled 'Get Back' as it proves that McCartney was not responsible for the band breaking up.
The new film looks at the final years of The Beatles and the making of their last album, 'Let It Be'.
McCartney had previously been blamed for the band breaking up. He announced his departure in April 1970 and later that year, filed a law suit requesting a formal dissolution of The Beatles.
In a new interview with The Sunday Times, McCartney has discussed the new documentary and the break up.
"It was so reaffirming for me. Because it proves that my main memory of the Beatles was the joy and the skill."
"The proof is the footage. I bought into the dark side of the Beatles breaking up and thought, 'Oh God, I'm to blame.' I knew I wasn't, but it's easy when the climate is that way to start thinking so."
He went on to add "But at the back of my mind there was always this idea that it wasn't like that, but I needed to see proof. There's a great photo Linda took, which is my favourite, of me and John working on a song, glowing with joy. This footage is the same. All four of us having a ball".
Paul McCartney has previously praised the movie for its authenticity surrounding The Beatles. "I love it, I must say because it's how it was. It just reminds me of – even though we had arguments, like any family – we loved each other, you know, and it shows in the film".
"It's a very warm feeling, And it's amazing just being backstage with these people, making this music that turned out to be good".
The new interview with The Sunday Times comes as McCartney is preparing for the release of his new album. 'McCartney III' will be released later this month. The album was also delayed by production issues, you can read Radio Nova's report on it here.
The new record is available to pre-order. Music was McCartney's 'silver lining' during lockdown.
In the same interview with The Sunday Times, the former Beatle said "Well, I am an optimist. Generally speaking I do believe things are good, and we screw them up. In fact, a lot of people during lockdown would say, 'Oh God!' And I'd say, 'Yes, but there's a silver lining."
"It was a phrase I used a lot. I was loath to say it because a lot of people had it bad, but suddenly we saw more of the family than ever, and I was able to do recordings. That was my silver lining."
'Let It Be' the Beatles documentary from Peter Jackson is due to be released in August 2021.