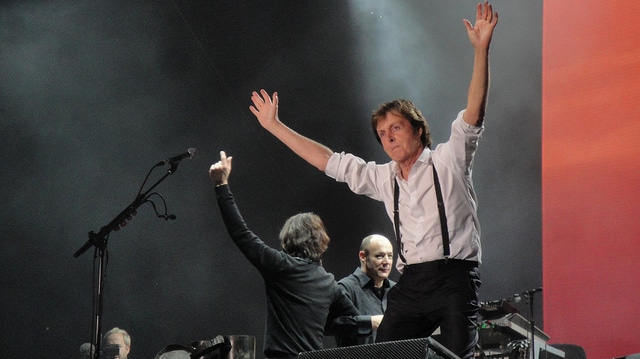 Paul McCartney is currently playing a string of shows around England. Last night during a show in Liverpool he invited a couple on stage for a proposal. McCartney invited Fabrice Gueho and Diane McEvoy onto the stage half way through the set.
The young man was nervous at first, not only for the proposal but the fact it was in front of a live audience. In classic McCartney fashion he had some words of advice for the young man. McCartney encourged him by saying "Come on, get serious, do it, we're all watching".
Eventually with the support of the crowd and the approval of the Beatles legend, the man proposed to his girlfriend. In somehwat of a coincidence, the couple's photo was taken by the local newspaper The Liverpool Echo before the show. According to the newspaper, the bride to be actually works for the city's Beatles Story Museum.
It seems that Paul McCartney is a bit of a matchmaker, back in 2014 he invited another couple on stage for a proposal . If this whole music thing doesn't work out for him he can always fall back on his matchmaking skills.
Photo Credit: DarioFerrini