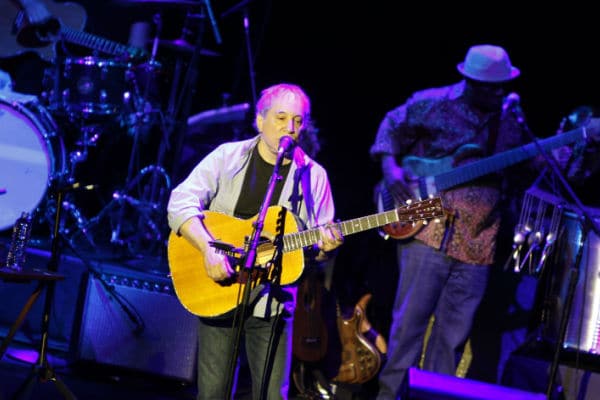 Would you like to listen to the article instead of reading it?
Paul Simon has announced his first album in 7 years, 'Seven Psalms'. 
The album which is due for release on May 19, is a 33 minute piece of work that came to him in a dream, according to the singer himself, and is intended to be listened to sequentially.
Paul Simon's last solo album 'Stranger To Stranger' arrived in 2016.
Seven Psalms // New Record // May 19 pic.twitter.com/230CG8vFQ4

— Paul Simon (@PaulSimonMusic) April 12, 2023
"the dream was so strong"
The release of 'Seven Psalms' is to arrive, along with a documentary titled 'Restless Dreams'.
A documentary that will explore "how the limitation of your belief always tends to be tied to your conception of your mortality", according to Simon.
"On January 15th, 2019, I had a dream that said 'You are working on a piece called 'Seven Psalms'. The dream was so strong that I got up and I wrote it. But I had no idea what that meant", Paul Simon can be heard saying in the trailer.
"Gradually information would come. I would start to wake up two or three times a week between 3:30 and 5 in the morning, and words would come, I'd write 'em down, then start to put it together". 
"I like to work and then discover", Simon continued. "Well, it's really interesting. I'm trying all the time to move things in this kind of flow way that puts you in a dream, and I think if you're willing to fall into a dream space, you're willing to let your judgment down". 
"This is a journey for me to complete. This whole piece is really an argument I'm having with myself about belief or not". 
The track listing for the album is as follows.
The track-listing for 'Seven Psalms' is:
1. 'The Lord'
2. 'Love Is Like A Braid'
3. 'My Professional Opinion'
4. 'Your Forgiveness'
5. 'Trail of Volcanoes'
6. 'The Sacred Harp'
7. 'Wait'
Last year, Paul Simon who is also renowned for being one half of duo Simon & Garfunkel, received the "Grammy Salute" at last year's ceremony. More on this here.