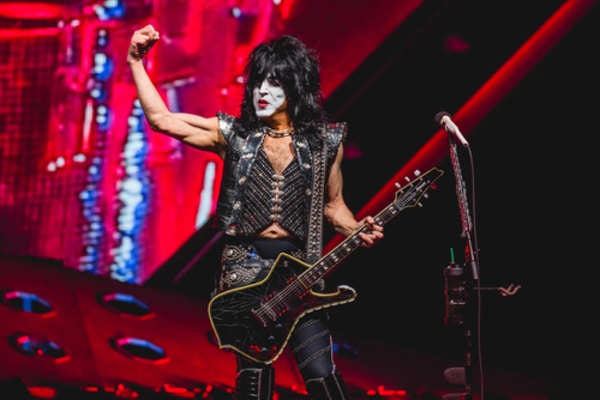 It seems the original line-up of KISS won't be getting back in the New York groove any time soon, as KISS frontman Paul Stanley has seemingly ruled out a reunion of the original quartet.
During an interview on US radio, Stanley called a reunion "impossible."
Stanley was asked why KISS fans are so eager to see the band return to its original line-up of Stanley, bassist Gene Simmons, guitarist Ace Frehley and drummer Peter Criss.
"Well, the original four are the original four," the rocker mused. "We were the ones who started this and created the template that we still stand by today. I think where people go wrong is when they think that things can remain timeless and that time doesn't take its toll."
Stanley went on to compare the band's fans to children of divorce.
"You may want mom and dad to be back together, but it didn't work out," he said. "And we had amazing moments and amazing times, and we did some phenomenal things together which, look, tie me to them forever. But that's not the fairy tale; it doesn't end there."
In its current guise, KISS consists of Stanley, Simmons, drummer Eric Singer, who joined in 1991, and guitarist Tommy Thayer, who joined in 2002.
"I've said before, we couldn't have been here without Ace and Peter and we couldn't be here today with Ace and Peter," Stanley continued. "I think people yearn for something that is – I was gonna say impractical. I would say impossible."
"It's great to look back on, but it's not that different than if you break up with somebody and years later you go, 'Wow. Why did that happen? Let me go back.' You go back and it's not the same anymore. And you quickly realise, as we did, why it didn't work out the first time. That's why it didn't work out the second time."
KISS were in the middle of an "End of the Road" tour when the pandemic struck. That tour is expected to resume in 2022. A KISS biopic is scheduled for a release through Netflix next year, with Stanley recently praising the script as "really good."
Away from KISS, Paul Stanley has been focusing on his other group, Paul Stanley's Soul Station. Far from the hard rock stylings of his main project, PSSS sees Stanley indulge his love of classic Motown soul music. The band's first album, Now and Then, was released in March, and features nine covers of soul staples along with five original tracks.