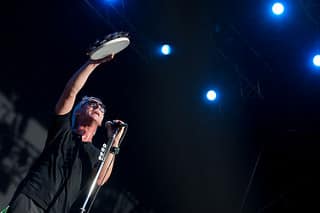 Due to demand Paul Weller has announced a second Olympia date on February 14th 2018. Joining him for both nights will be special guests, Touts.
Ticket information
13 & 14 Feb. Olympia Theatre: Tickets from €55.65 incl. Booking fee & restoration levy.
Tickets for both dates are on sale now from Ticketmaster outlets and www.ticketmaster.ie
We have great news for you here for your Monday! You lovely NOVA listeners have a chance to win tickets! Every day this week we have a pair of tickets to Paul Weller's gig (Feb 14th). Simply tune into NOVA Drive with Pat Courtenay from 2pm – 7pm and have a listen out for how you can nab yourself a pair.
2017, marks the 40th anniversary of Paul Weller's first album, "In The City", which he released with The Jam in May 1977. But instead of a re-release, in true Weller style, he's releasing a new studio album, because releasing new albums is what Paul Weller does. Always moving forwards, almost clinically averse to nostalgia or checking his progress in the rear-view mirror.
Paul Weller releases his eagerly awaited 13th studio album "A Kind Revolution", out now on Parlophone Records.
Weller started work on "A Kind Revolution" immediately after finishing 2015's "Saturns Pattern". "A Kind Revolution" features ten absolute classic modern Paul Weller tracks.
Musicians on the album feature most of the touring band faithful with Andy Crofts and Ben Gordelier being the top mainstays. Steve Cradock and Steve Pilgrim also feature on several tracks. Opening track "Woo Sé Mama" sees legendary soul singers PP Arnold & Madeleine Bell supply their distinctive vocal skills while the exceedingly funky "One Tear" features the unmistakable voice of the one and only Boy George. Paul even managed to lure Robert Wyatt out of retirement to sing and play trumpet on "She Moves With The Fayre". Finally, and once again, The Strypes' guitarist Josh McClorey has been drafted in to add his magic to 3 tracks.
Tune into NOVA for your diet of guitar-based music to Dublin, Kildare, Meath & Wicklow.
NOVA is available on Facebook, Twitter and on it's website – www.nova.ie. It can be received on 100.3FM in the Greater Dublin area and can be received nationwide on its Smartphone apps and via the Irish Radio Player.ore updates as we hear them.
Photo Credit: Aktiv I Oslo.no