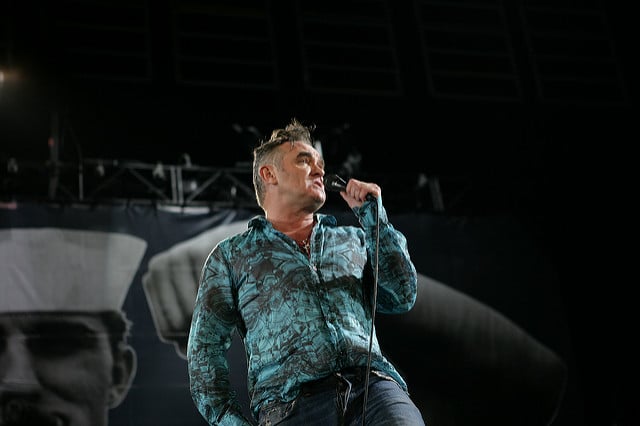 In this day and age, you would think that most people would have gotten the message. Don't piss off Morrissey. Apparently though, HMV in the UK didn't get the message, and now Morrissey is out for blood.
In what for anyone else would be considered a rant, but for Morrissey merely an average Facebook post. Morrissey has hit out at HMV for the labeling on the Smiths re-release.
He claims the stores are trying to "freeze sales" of The Smiths' recently reissued single 'The Queen Is Dead', which went on sale on Friday, June 16.
https://www.facebook.com/Morrissey/posts/1373385286031342:0
He states that that this is not the wish of the band and also ponders why it isn't on any of the other items on sale in HMV. Liking the stickers to the warning signs on cigarettes, he believes that 30 years on from the bands demise, The Smiths are still too hardcore for the average music listener.
In the post he also bemoans the fact that the song "The Queen Is Dead" is never being played on the radio, despite the fact that is currently selling in the top ten singles chart.
Morrissey goes so far as to offer tips as to how to work your away around the labeling." If you are in possession of seven variable wigs, a box containing false noses, multiple-sized plastic clip-on ears, a nurse outfit, a set of stilts, a Superman cape, and a variety of oddly shaped spectacles, then we urge you to use them now and buy as many copies ​of The Queen is Dead ​a​t HMV as​ you ​desire.​"
On a side note, whatever person that happens to be possession of all these items, is definitely someone we want to party with.
A surprise release today for Smiths fans – a special 7" & 12" single of The Queen Is Dead! Very limited & in-store only! pic.twitter.com/Lhwo427t6E

— hmv (@hmvtweets) June 16, 2017
The album is being released on both 7″ and 12″. The 12″ single features the 1992 edit of the track (found on the "How Soon Is Now" CD single), as well as B-sides "Oscillate Wildly," "Money Changes Everything," and "The Draize Train." The 7″ features "I Keep Mine Hidden," originally found on the 1987 cassette release of "Girlfriend In a Coma" and allegedly the last recorded Smiths song.
Photo cred: Mark Oshiro