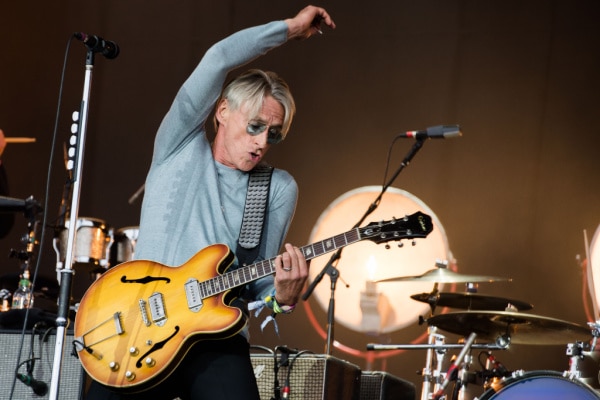 Paul Weller has set up a charity gig in honour of iconic artist Peter Blake, who celebrates his 90th birthday.
Curated by Weller, the event will take place in London, to celebrate the birthday of an artist, who's renowned for his iconic cover art on the Beatle's album 'Sgt Pepper's Lonely Heart's Club Band', which arrived in 1967.
Taking place on December 2, the event will include live performances from musicians like Noel Gallagher, Madness, Chrissie Hynde, Roger Daltrey, Baxter Dury, as well as Weller himself.
This celebration will be held at London's Royal Festival Hall.
Tickets will be available on Friday 21 October at 9am, with all proceeds to be split between the Graeae Theatre Company and the Teenage Cancer Trust.
"the kindest person ever"
The Graeae Theatre Company is very close to Peter Blake's heart, and the company which Blake serves a patron to, hailed him as the "kindest person ever".
"Peter Blake is a legendary part of Graeae as a patron, an artist and the kindest person ever", the company's artistic director Jenny Sealey MBE said.
"He has twinkly eyes but stands for no nonsense, ever the radical maverick we hold close to our hearts. Happy Birthday Peter and so much love from your Graeae family".  
Hailing Blake as a "brilliant artist", Paul Weller also released this statement.
"We're coming to celebrate this brilliant artist who has given us all so much for over 70 years! Thank you Peter!", the singer wrote.
"We're coming to celebrate this brilliant artist who has given us all so much for over 70 years! Thank you Peter!"

Paul is very excited to announce a star-studded lineup curated himself in celebration of a true great of British pop culture; Sir Peter Blake! pic.twitter.com/XR8Euty1cN

— Paul Weller (@paulwellerHQ) October 17, 2022
Earlier this year, Paul Weller had joined forces with Madness, when he joined the band on stage for their show at London's Royal Albert Hall back in March.
Others artists who also took to the stage along with Weller and Madness, included Liam Gallagher, Ed Sheeran, the Who and Don Brocco. There is much more on this report from Nova here.
Later this month, Weller will release his latest collection of non album rarities, including live recordings, B sides, remixes, and tracks from singles. This collection is called 'Will Of The People', and follows up his mix from his 2003 'Fly On The Wall'.
Paul is happy to announce 'Will Of The People'!

Will Of The People follows up Fly On The Wall. A collection compiled by Weller that takes the listener through a similar mix of B-sides and rarities, this time spanning the period 2002 to 2021. pic.twitter.com/Zk5QhVfMjR

— Paul Weller (@paulwellerHQ) September 29, 2022