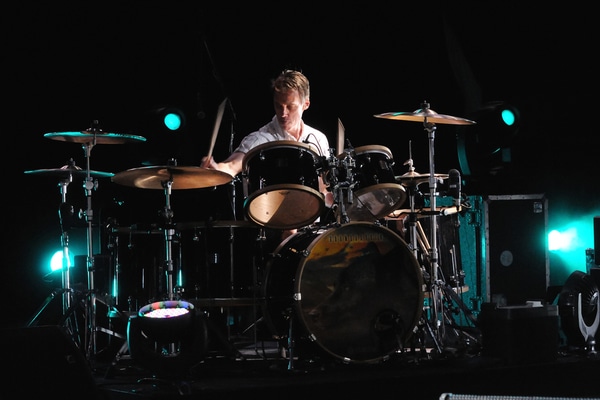 Pearl Jam were forced to reshuffle their touring pack, after their drummer Matt Cameron tested positive for Covid-19.
This is also the first time in 24 years that Cameron has missed a Pearl Jam gig.
A Three Man Job
In Cameron's absence, Josh Klingoffer of the Red Hot Chili Peppers deputised for a set.
He hit the drums for tracks which included Neil Young's 'Rockin In The Free World', "Corduroy', 'Elderly Woman Behind The Counter In A Small Town', and 'Why Go'. 
Following this, they also performed tracks 'Superblood Wolfmoon', 'Quick Escape' and 'Yellow Ledbetter' with long time collaborator Richard Stuverud. See here. 
Pearl Jam Honour Taylor Hawkins 
On the opening night of this tour, Pearl Jam had paid special tribute to the late Foo Fighters' drummer Taylor Hawkins, who was also a close friend of Matt Cameron.
Taylor Hawkins died in March aged 50.
The pair had formed the band Nighttime Boogie back in 2020. They also performed at a special gig, to honour the late Soundgarden frontman Chris Cornell in 2019.
Their frontman Eddie Vedder addressed Cameron's friendship with Hawkins, just before the band were about to perform 'Quick Escape'. 
"[Hawkins] emitted something very incredible and very special", Vedder told the crowd.
Pointing to Cameron, Vedder also added, "We're all missing him, and so, Matt, I'm sorry again for your loss".
"But it just gives us another chance to say how much we appreciate you as well". More from this report from Nova here.
Pearl Jam, Soungarden & Nirvana Join Forces 
Last month, it also emerged that the surviving members of Pearl Jam, Soundgarden and Nirvana also joined forced to form a new band called 3rd Secret.
Soundgarden's Kim Thayil, Nirvana's Krist Novoselic feature in the band, alongside Matt Cameron. The band also includes singer Jon "Bubba" Dupree. Dupree also worked with Cameron in supergroup Hater.
The band have already released an album. Check that out here.