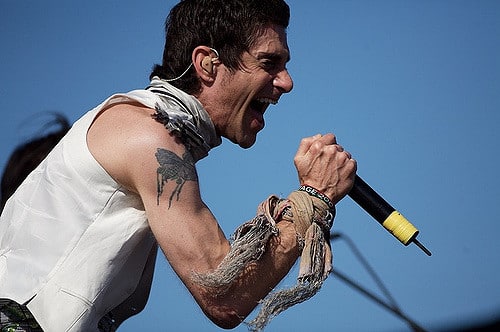 Lollapalooza returns to Grant Park Chicago next week but the festival's co-founder and Jane's Addiction frontman Perry Farrell is ready to move on.
Speaking to the Chicago Tribune he said "I hate EDM. I want to vomit it out of my nostrils…I can't stand what it did to what I love, which is house music, which was meditative, psychedelic — it took you on a journey… I sometimes cringe at my own festival." This comes after a switch in the festivals usual line-up which is becoming increasingly more electronic. This year's line-up includes Majorlazer, Disclosure, LCD Soundsystem, Ellie Goulding and Duke Dumont.
Charlie Jones, one of the owners of C3 Presents, the company which helps organise the festival explained that Lollapalooza's line-up had to match the evolving generations needs "If we had the same genres as in 2005 there wouldn't be 400,000 people attending this year."
Farrell believes the festival was once "a scene for the alternative kids" but following a hike in investment it's authenticity has been lost. Despite this, Lollapalooza remains incredibly popular selling out at it's 400,000 ticket maximum and contributing $155 million to the cities economy.
Farrell has begun plans on his next project which we can expect in the next 18 months. He assured the Chicago Tribune that it'll be music-centric,  "I'm going to make a new scene, a new place, a different feel. Music will be at the heart of it, but it will be a completely new experience." he said.
He also has one clear aim – to keep EDM away. "I hope I will keep EDM at the door. They will be turned away."
Photo Credit: PeterReid