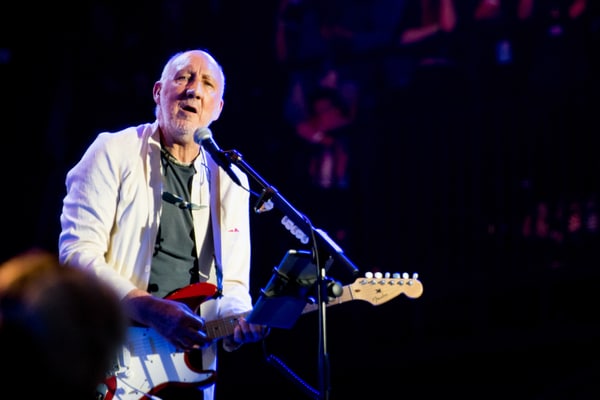 It seems Pete Townshend is working on new solo material.
Townshend was photographed over the weekend in a recording studio with session bassist Guy Pratt, who has previously worked with the likes of Pink Floyd and The Smiths, and drummer Ged Lynch, best known for his work with Peter Gabriel.
Pratt shared the photo on his Twitter account with the caption "To say the last couple of days recording has been beyond magical would be an understatement."
To say the last couple of days recording has been beyond magical would be an understatement. pic.twitter.com/GFlzPbXyyF

— Guy Pratt 🇪🇺Mask Wearer.Boosted. (@guypratt) February 5, 2022
It's seven years since Townshend released any solo material, when he recorded the songs Guantanamo and How Can I Help You for the compilation Truancy: The Very Best of Pete Townshend.
Since then Townshend has concentrated on The Who, with a self titled album released in 2019 by himself and Roger Daltrey.
Last year Townshend got fans excited by teasing a potential new Who album, saying he had "pages and pages of draft lyrics." He later backtracked however.
"As far as a new record, it does take quite a lot of time to put together the 20 or 30 songs that are needed for both Roger and I and any producer that we might be working with to cherry-pick the ones that fit the times," he said. "Because you write the songs, and then two years later you're putting them all out, and you just hope that you're going to hit the mood of the moment. A lot of artists now are writing songs at home, recording them at home and putting them out within weeks. But our process is the old-fashioned way, and it does take a lot of time. So I don't know, but I am optimistic. And I'm certainly full of ideas."
Daltrey said he was reluctant to record a new Who album due to the changing marketplace.
"Will there be another Who album? I don't know," he said. "There's no record market any more. Everybody talks about streaming, but have you seen what artists get from that? It's a joke. It was great to get an album out there, something that the fans liked, and I was really proud of it. But far too much money was spent making it."
Townshend had previously worked in his own home studio, however he sold his home last August for a whopping £15 million.
"Moving house is never fun," Townshend wrote. "But with it went the home studio (which I helped build for Ronnie Wood when he lived in the house before my in 1973) where I have produced a lot of my songs and quite a bit of commercial music."
View this post on Instagram