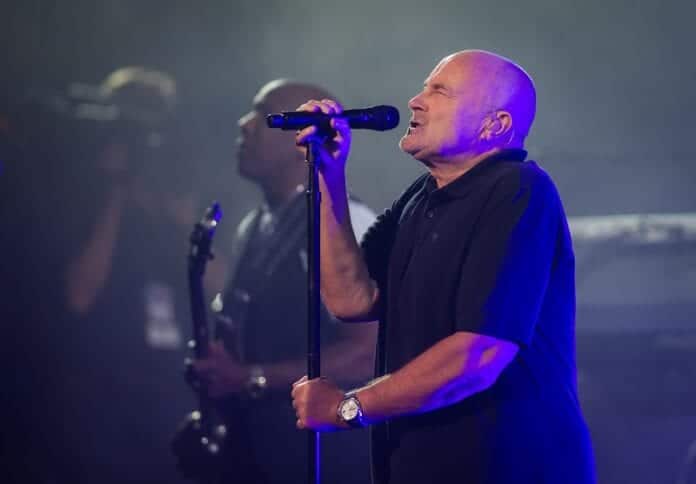 It has been revealed that Phil Collins' ex-wife, Orianne Cevey is auctioning off more of the Genesis singer's goods and items again.
In January, Radio Nova reported that Cevey was auctioning off his gold records and other goods for charity.
Now, she is auctioning off more of his items for charity again. According to entertainment outlet Page Six, Cevey is selling the gold record he earned for his 2002 album 'Testify'.
It was given a maximum value of $1,000 by auctioneers at Kodner Galleries, but had already surpassed that figure shortly after the sale went live on Wednesday.
Cevey is also selling a variety of designer purses, shoes, watches, and jewellery, including a Tiffany & Co. engagement ring, which a representative insists is "not her wedding ring" from Phil Collins.
The entire auction lot is expected to bring in more than $1 million for Cevey. A portion of the proceeds will be donated to her charity, the Never Give Up Foundation.
The organisation supports people with spinal cord injuries. For more information, you can visit their website here.
All the goods on offer in the auction can be viewed here.
Phil Collins and Orianne Cevey were previously married for nine years until 2008, but later reconciled in 2015, until parting ways again early last year.
Then the two got caught up in a long bitter legal battle over their divorce. Cevey then married business man Thomas Bates and lived with him in the house she use to share with Collins.
The pair eventually left the residence after Collins filed to have them evicted.
Cevey's last auction brought in over two million dollars and will be hoping for a similar amount this time around.
Meanwhile, Phil Collins will be hoping that Genesis' tour will be able to go ahead. For the latest Genesis' news and their latest tour update, check out Radio Nova's report here.