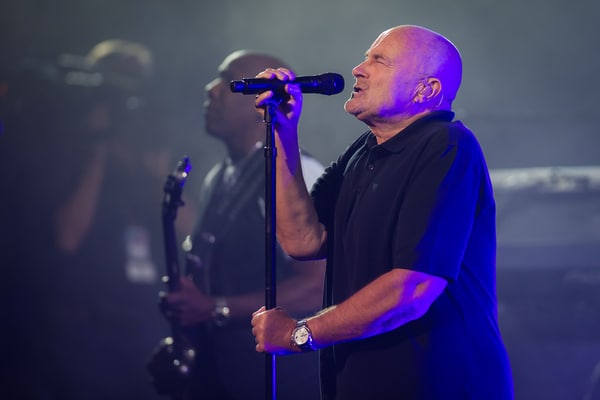 One of the great images of rock music is Phil Collins taking his seat behind a drum kit just in time to drop the iconic beat from his anthem In the Air Tonight. Sadly it seems we may never see Collins do so again.
In a new BBC interview with his Genesis bandmates, Collins revealed that his ongoing health issues mean he won't be playing drums on the band's upcoming reunion tour.
In 2007 Collins suffered a spinal injury which caused damage to vertebrae in his upper neck. He has been suffering nerve damage ever since.
Genesis are set to embark on a reunion tour in October. Collins, who will be reunited with founding members Mike Rutherford and Tony Banks, will sing on the tour while confined to a seat. Drumming duties are being passed to his son Nic.
"I'm kind of physically challenged a bit which is very frustrating because I'd love to be playing up there with my son," Phil said.
Asked if there was any chance of Phil playing drums again, he replied, "No. No, I would love to but, you know, I mean I can barely hold a stick with this hand, so there are certain physical things that get in the way."
Phil is enthusiastic about his son taking his place.
"He plays a bit like me when he wants to," he said of Nic. "I'm one of his many influences, being his dad. He plays like me and he kinda has the same attitude as me, so that was a good starter."
Phil suggested that the upcoming tour will be fans' final chance to see Genesis perform live.
"We're all men of our age, and I think to some extent, I think it probably is putting it to bed," he said. "I think yeah, I think just generally for me, I don't know if I want to go out on the road anymore."
In the Air Tonight received a major sales boost last year when a video of two young YouTubers reacting to a live performance of the song went viral. Brothers Tim and Fred Williams filmed their enthusiastic reaction to hearing the song and witnessing Collins' performance for the very first time. Thanks to the duo, In the Air Tonight reached number two on the iTunes chart last August.
Donald Trump even attempted to exploit the renewed popularity of the song when it was played at one of his rallies last October. This prompted Collins to issue the then President of the United States with a cease and desist order.