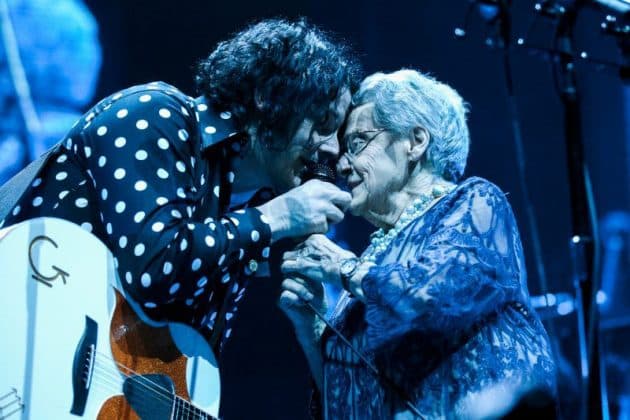 Jack White kicked off the tour for his new album Boarding House Reach this week. During one of two hometown shows in Detroit, White invited his mother onstage to sing backing vocals with him. According to Billboard, White's mother, Teresa Gilis also joined his son to dance the Polka during his performance of The White Stripes 'Hotel Yorba'. You can check out all the photos below!
During the gig, White swapped his polka dot shirt for a jersey of his school alma mater, Cass Technical High School.
White released his latest solo album Boarding House Reach last month, performed the songs 'Over And Over And Over' and 'Connected By Love' on US comedy show, Saturday Night Live. He rocked out on 'Connected'  using a guitar designed by St. Vincent's Annie Clark.
As well as this, the rocker appeared in an unaired sketch on Saturday Night Live that saw White embroiled in a bizarre love triangle.
And finally, this weekend Radio Nova is making radio history. Nova is the first Irish radio station to team up with Shazam, the world's leading music discovery app and they're giving listeners a chance to win tickets to the Rolling Stones. Once Nova plays a Rolling Stones track across the weekend listeners are encouraged to 'Shazam' it and click to win tickets.