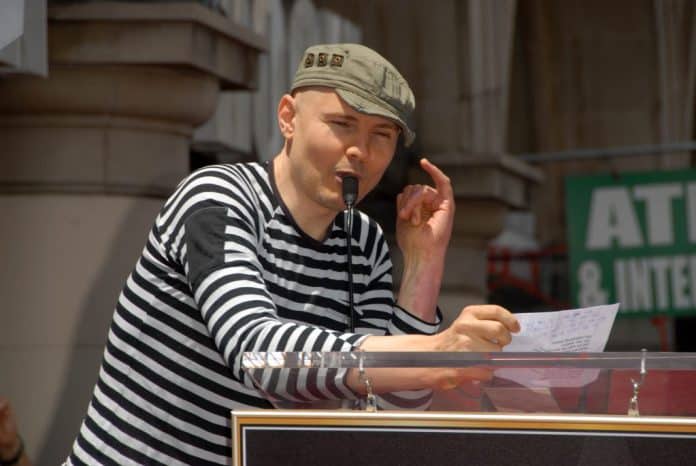 There's been a lot of excitement surrounding the Smashing Pumpkins 'reunion'. And now frontman Billy Corgan has addressed the rumours about the band's new bassist. Corgan was pictured in the studio last month with James Iha and Jimmy Chamberlin – the band's original guitarist and drummer.
But after original bassist D'arcy Wretsky announced that she would not be involved in a Pumpkins reunion, leaked photos showed that Jeff Schroeder would likely be filling her place. Schroeder originally joined the band in 2007.
Now, Corgan has taken to Instagram to set the rumours straight. He claims that neither him, Schroeder or Ihu will be playing bass. Suggesting that the band will in fact have three guitarists, with the possibility of a session musician on the bass.
Corgan posted the following: 'What a weekend. Saturday, I was high in the hills of Topanga, overlooking the ocean on a beautiful sunny day, and according to some reports (based on photos taken or leaked) I am now a bassist. I mean, yes, I have played bass on many of your fave songs but I'm not sure I can play bass AND sing at the same time? But perhaps I can try *someday*.'
He continued: 'Other reports have @jjjschroeder (who just celebrated a birthday) as a budding bassist. Which is interesting, because though Jeff doesn't mind plucking at 4 strings if needed I know he would much prefer the dulcet tones of 6 (but I have heard him confess that 7 strings is just 'too much') @jamesihaofficial on the other hand, well, I haven't seen him pick up a bass since Machina (which he played a fair share on, despite reports claiming a certain 'flaxen Saxxon' did; and as you know with much that is written is patently f-a-l-s-e). Which brings me back to my time in the hills of Topanga, dressed in a long coat, staring out into the ocean dreaming of a future not yet realized.