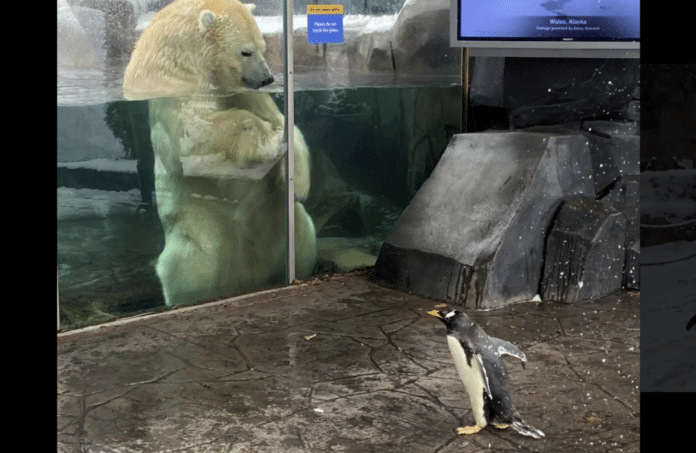 Something to warm your hearts in the midst of this difficult period! A penguin met up with a polar bear whilst on a zoo tour with his pals! The image was captioned of Bear Kali who hails from the Arctic gazing through the glass side of his pool at the penguin who hails from the Antartic. Literally polar opposites!
As many as seven penguins were on a field trip at St Louis Zoo in Missouri, US. They also popped into see grizzly's Huck and Finley.
"Get up close to see"
On this unlikely meet, the Zoo said, "Through the cooperation of our bird and carnivore animal care teams, our penguins were able to get up close to see the polar and grizzly bears".
The Zoo added that after the penguins "willingly approached", the bears were "curious" and came over "to greet them".
"They all really enjoyed themselves", they added.
Zoo news closer to home:
We brought you the news before Christmas that the Government had agreed to intervene, to support Dublin Zoo who like most places has suffered financially during this pandemic.
In that time, a fundraising campaign was launched called "Save Dublin Zoo". This was to help cover the cost of animal care, which usually mounts to around €500,000 monthly. 
Speaking in November 2020, zookeeper, Hannah Wilson told Colm and Lucy, that the elephants are one of the zoo's most popular animals. It costs €75 to feed 1 of the 9 elephants at Dublin Zoo. You can read this and more here.
Since then, Dublin Zoo have confirmed that there has been an overwhelming reponse to the campaign. Within 12 hours of the campaign launching, €1 million was raised. At the minute, donations stand at €2.7 million. The website said that this support has offered the zoo a lifeline and hope for 2021.
2020 also saw the arrival of new animals into the zoo. These included a southern white rhinoceros calf, two Humboldt penguin chicks, a tiny Goeldi's monkey and a Siamang gibbon.
Speaking in 2020, the zoo's director, Dr Christoph Schwitzer said, "It is always wonderful to see new-borns at Dublin Zoo, and in a year often short of positive news stories this was especially the case".
Dr Schwitzer was also thankful for "the strength of response we received from the Irish public, and we are truly grateful to everyone who has contributed to the campaign to date. The money raised has allowed us to look to 2021 with renewed optimism, hopeful that restrictions will lift next year and allow us to welcome stronger visitor numbers once again".