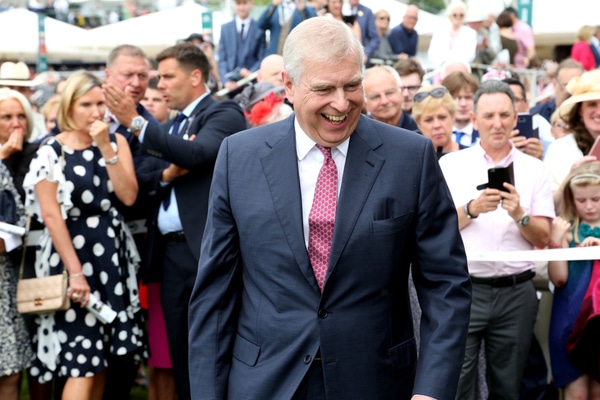 It has been reported that Prince Andrew is on a "collision course with the palace", having demanded a trial by jury in his battle against sexual abuse allegations.
Prince Andrew has been accused of sexually abusing Virginia GIUffre at the home of convicted sex trafficker Ghislaine Maxwell. She also claimed that she was groomed into a "sex slave" by Maxwell and disgraced billionaire Jeffrey Epstein.
Court documents have also said that the royal who denies the allegations will "hereby demands a trial by jury on all causes of action asserted in the complaint".
It is the first time that that Andrew has publicly vowed to defend himself in court. He has already been stripped of his royal titles by the Queen. More on that here.
He will face this lawsuit as "a private citizen" and cannot hide behind royal privileges.
Prince Andrew Says "see you in court"
Despite his split from the family, Prince Andrew's decision to face a jury is likely to butt heads with the royals.
"Andrew is on collision course with the Palace over this", a a source said.
It has also been reported that Prince Andrew is to provide his lawyers with a seven hour witness statement via video call. A source has also said that Prince Andrew has told Virginia "I'll see you in court".
Lawyers have already stated that Prince Andrew has denied sexually abusing Ms Giuffre when she was 18 years old. They do admit his links disgraced pair Ghislaine Maxwell and Jeffrey Epstein.
These legal papers state that, "without assuming the burden of proof, and expressly denying any and all wrongdoing".
The royal's request to have the case dropped was dismissed earlier this month. Media lawyer Mark Stephens branded Andrew a "dead man walking" and added that he should turn himself in, to save any further embarrassment for his family.
"denials and attempts to blame"
When previously questioned about the assault, Prince Andrew had claimed that he was in Pizza Express, Woking when the incident allegedly took place.
He has also questioned Ms Giuffre's version of events.
David Boies speaking on Ms Giuffre's legal behalf, welcomed the idea of a showdown with Prince Andrew.
"Prince Andrew's Answer continues his approach of denying any knowledge or information concerning the claims against him, and purporting to blame the victim of the abuse for somehow bringing it on herself", he said.
"We look forward to confronting Prince Andrew with his denials and attempts to blame Ms. Giuffre for her own abuse at his deposition and at trial".